About Me
Chas

Hello! My name is Chas. I am 33 years old, with a love for PSP. I've been tagging for 10 years now and enjoy the addiction. I am still learning but having fun doing so. I love to share my creations hence the premise of this blog. I use Corel PSP X2 and am learning Photoshop C3.
View my complete profile

TOU
My design freebies are for personal non-profit use only. Please link back to my blog if you use any of my freebies in your tutorials, etc. My files/shares are not to be renamed OR used to recreate new kits or embellishments for others to download. No hotlinking is allowed. If you download my files/shares, you are agreeing to this TOU.



Licensing Cos.

Tut Sites

Fav Sites

Free Fonts

Fav Movies

Saturday, October 25, 2014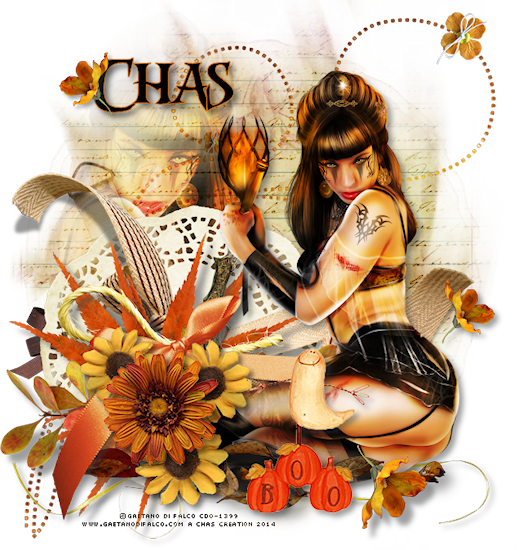 CLICK ON IMAGE TO VIEW FULL SIZE
Supplies Needed: Corel PSP X2 or any version thereof
I am using the brilliant artwork of Gaetano di Falco
Drop shadow setting used: 5, 5, 50, 10 blur, color #404040 or black
1. Open a new image 675 x 675 px. Flood fill white.
Add a new raster layer, select all
open paper 2, copy and paste into the selection. Deselect. Sharpen.
Open element 6 (words), resize 675 px, C/P as a new layer
Change blend mode to Burn ~ Merge down
Open mask, minimize. New Mask Layer ~ from image ~ find mask.
Source luminance checked only. Apply. Merge group.
2. C/P following elements:
element 7 - 20%
element 13 - 25%
element 9 ~ 15%: apply plugin Adjust Variations ~ more red
element 18 ~ 17%
element 8 ~ 20%, duplicate twice and arrange as desired
element 1 ~ 17%
element 22 ~ 17%, duplicate ~ mirror
element 24 ~ 15%
element 23 ~ 20%
element 5 ~ 15%
element 19 ~ 20%, duplicate twice, resize & rotate each slightly, sharpen
element 10 ~ 10%: apply plugin Adjust variation ~ more red
element 12 ~ 10% ~ duplicate twice more, resize each 75% more, rotate, sharpen
3. Open wordart from Cajoline freebie 19, draw a freehand selection
around wordart of choice, C/P
apply plugin Adjust variations ~ more red
4. Open tube of choice, resize if needed, D/S
C/P below element 23 (leaves)
Using close-up of tube, C/P below layer of element 9 (lace circle)
Apply Mask 20/20 to this tube close-up.
Apply, merge group.
change blend mode to Hard Light, drop opacity to 85. Arrange
See reference tag for placement
Be sure to add D/S to all elements.
5. If you wish to resize, 90% smartsize.
Add copyright & watermark.
Add name, using foreground color #dc720f, fill black. Stroke width 1.
6. Delete white background layer
Crop ~ Merged Opaque ~ save as a PNG
♥ Thank you for trying my tutorials. ♥
Would love to hear your comments!

Labels

Fav Deviant Artists
Blog Archive

Fav Blogs
Barbara Jensen Holiday Editions

10 hours ago

Dance of Light

13 hours ago

Tag Temps 251 - 300

5 days ago

Scrapkit: Ocean Breeze

4 months ago

Enchantmant...

1 year ago

Blog Archive