About Me
Chas

Hello! My name is Chas. I am 33 years old, with a love for PSP. I've been tagging for 10 years now and enjoy the addiction. I am still learning but having fun doing so. I love to share my creations hence the premise of this blog. I use Corel PSP X2 and am learning Photoshop C3.
View my complete profile

TOU
My design freebies are for personal non-profit use only. Please link back to my blog if you use any of my freebies in your tutorials, etc. My files/shares are not to be renamed OR used to recreate new kits or embellishments for others to download. No hotlinking is allowed. If you download my files/shares, you are agreeing to this TOU.



Licensing Cos.

Tut Sites

Fav Sites

Free Fonts

Fav Movies

Tuesday, July 1, 2014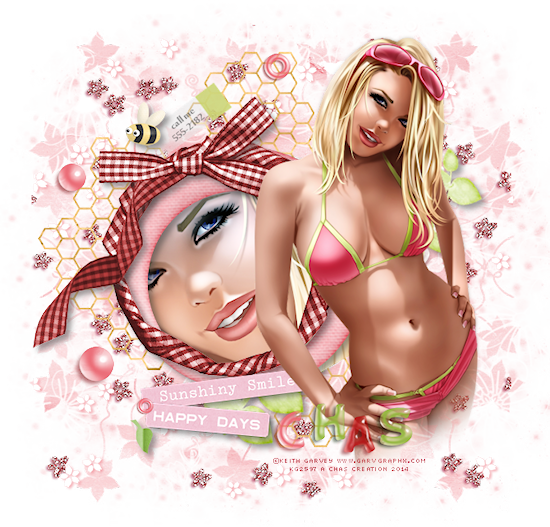 CLICK ON IMAGE TO VIEW FULL SIZE
Supplies Needed: Corel PSP X2 or any version thereof
Alpha by Akizo Designs HERE
Sticky Notes by Akizo Designs HERE
Mask By Melissaz Creationz called MC_ Mask19
♥ Thank you Designers for all these wonderful freebies! ♥
Filters Unlimited ~ Color Filters ~ Blue Sky
Drop shadow setting: 5, 5, 50, 10 blur, color #404040
1. Open a new image 675 x 650 px. Flood fill white.
Add a new raster layer, select all
open paper 9, copy and paste into the selection. Deselect. Sharpen.
Open mask, minimize. New Mask Layer ~ from image ~ find MC_Mask19.
Source luminance checked only. Apply. Merge group.


2. Open frame (4)~ 30%
add frame (1) ~ 25%
add bow (1) ~ 20%
Using point-to-point freehand selection tool, draw a selection
within frame opening.
Open close-up of tube, resize 70% if needed,
C/P below frames ~ arrange to liking.
Invert selection ~ delete excess tube ~ invert selection again.
Duplicate close-up of tube.
Change blend mode on duplicate to screen.
Apply Filters Unlimited ~ Color Filter ~ Blue Sky ~ default setting
Deselect selection.
add net (1) ~ 11%, C/P below frames, duplicate twice
and arrange around frames.
3. Select mask layer,
open red scatter (2) found in element 2 folder, paper pkg
resize 11%, C & P
Add scatter (1) ~ 17%, C/P
erase any of the above scatter that has sharp, cut-off edges.
4. Add other elements of choice:
bee 20%
foliage 20%
gelgems (7) ~ 10%, duplicate, resize 80%, arange
gelgems (5) ~ 10%
sticky note ~ 20%, add phone # using font in colour of choice
rotate using pick tool
leaf (4) ~ 10%
wordbits of choice ~ 20%

D/S elements of choice.

Open main tube, resize 90%, C/P to right
If using same tube, using freehand selection tool,
feather setting of 30, draw a selection around bottom of tube.
Delete. Deselect.
Duplicate tube ~ change blend mode to soft light, drop opacity to 69.


5. If you wish to resize, 90% smartsize.
Add copyright.
Add alpha for name.
Tip: Resize the color alphabet first (20%), then draw a rectangular selection
around individual letter to copy.
6. Delete white background layer
Crop ~ Merged Opaque ~ save as a PNG
Thank you for trying my tutorials!
: + )

Labels

Fav Deviant Artists
Blog Archive

Fav Blogs
CT VERYMANY BRITTANY

11 hours ago

Fairytale Endings

23 hours ago

New Blog Design

1 week ago

Scrapkit: Ocean Breeze

4 months ago

Enchantmant...

1 year ago

Blog Archive