About Me
Chas

Hello! My name is Chas. I am 33 years old, with a love for PSP. I've been tagging for 10 years now and enjoy the addiction. I am still learning but having fun doing so. I love to share my creations hence the premise of this blog. I use Corel PSP X2 and am learning Photoshop C3.
View my complete profile

TOU
My design freebies are for personal non-profit use only. Please link back to my blog if you use any of my freebies in your tutorials, etc. My files/shares are not to be renamed OR used to recreate new kits or embellishments for others to download. No hotlinking is allowed. If you download my files/shares, you are agreeing to this TOU.



Licensing Cos.

Tut Sites

Fav Sites

Free Fonts

Fav Movies

Saturday, March 29, 2014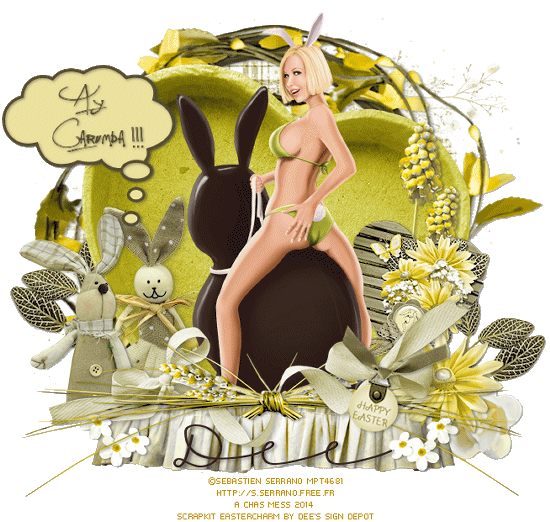 CLICK ON IMAGE TO VIEW FULL SIZE
Supplies Needed: Corel PSP X2 or any version thereof
Unfortunately this tube is not available on CDO
as he used to sell with My PSP Tubes.
1. Open paper 11, resize 675 x 675 px.
Select the layer palette, right click ~ convert to raster layer.
Add a new raster layer.
Move it below the paper layer.
Flood fill white to help see what we're working with.
Select paper layer. Apply mask. Merge group.
Resize 105%, sharpen
2. Open element 43, C/P, resize 115%, sharpen
Open element 22a, C/P
Apply plugin Adjust Variations to 'more Yellow'
repeat

C/P main tube, resize if needed

3. Add elements of choice:
element 8 ~ 70%
element 50 ~ 40%, duplicate, mirror
element 10 ~ 75%, mirror
element 7 ~ 40%
element 20b ~ 40%, rotate 15 degrees to right, sharpen
element 2 ~ 55%
element 35 ~ 62%
element 18 ~ 50%
element 25b ~ 45%
element 61b ~ 50%, duplicate, mirror
element 1 ~ 50%

element 42 ~ 75%, move to right, duplicate, mirror
Between these two elements, C/P element 34 ~ 75%
D/S element 34
all three of these elements in a horizontal line

D/S elements of choice with light setting or
1/2/45/5 blur, color #404040

Add wordart of choice or the one supplied.


5. If you wish to resize image, use 85 - 90% smartsize in PSP
If resizing in Animation Shop, use 'bicubic resample'

If you don't wish to animate, merge 'opaque', add copyright, name & watermark.
Save as a PNG.

6. If you wish to animate, delete white background.
Select the main tube layer
Edit Copy ~ Merged
Open A/S, paste as a new animation
Back to PSP,
still on main tube layer, select effects ~ image effects ~ offset
horizontal 0, vertical -5, custom, transparent

Using warp brush, warp mode - expand size 250, strength 50
tap once the tip of the brush on the bunny's backside (between girl's legs)
copy ~ Merged
Edit Paste in A/S after current frame
Back to PSP, undo warp brush, undo offset affect.
Copy Merged
Paste in A/S after current frame
(OR copy frame 1 in A/S and paste after frame 2 in A/S)
Back to PSP
still on main tube layer
select effects ~ image effects ~ offset
horizontal 0, vertical -2, custom, transparent
Using warp brush, select 'contract' warp mode
size 200, strength 50
Tap the warp brush once in approximately same area as earlier
Copy Merged
Paste after third frame in A/S.
You should now have four frames.
Edit ~ select All
change frame properties to '17'
View animation for errors
If you wish to resize, first crop the animated image ~ options ~ surround the opaque area
Click center of image to apply.
Resize animation to size of choice used bicubic sample.

Add copyright, watermark & name.

Optimize using optimization wizard
optimized Octree, partial transparency ~ convert pixels to less than 80.
Blend with color white.
View animation one last time and save as a GIF

Hope you enjoyed this tutorial.
I'd love to see your results.
: + )





Labels

Fav Deviant Artists
Blog Archive

Fav Blogs
VERYMANY - MICHELLE

8 hours ago

Glam and Glitter

1 day ago

Barbara Jensen - Impatience

3 days ago

Want It Wednesday!

1 month ago

Enchantmant...

1 year ago

Blog Archive