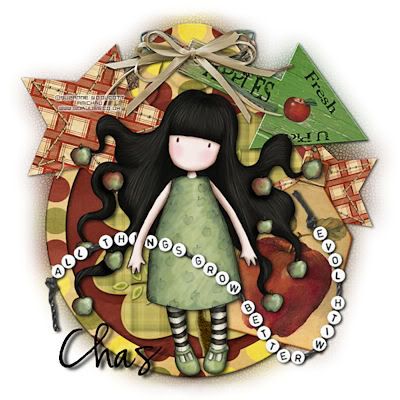 This tutorial is written for those with a working knowledge of PSP. Any resemblance to any other tutorial is purely coincidence.
Supplies Needed:
I am using Corel PSP X2 version but any version will do.
Xenoflex 1 plugin
Tube of choice. I am using the gorjuss artwork of Suzanne Woolcott. You can purchase a license to use her art
HERE
.
Freebie Scrap Add-Ons ~ Apple Festival Trees & Apple Festival Tags found
HERE
at Raspberry Roads. Thank you, Susan! ♥
Ziggy's Alpha Beads found
HERE
at Ziggle's Scraps. Check previous page entries.Thank you!♥
* * * * *
Open up a new transparent image 600 x 600 pixels and flood fill white.
Open tag template 021, resize 50%.
Optional: for added dimension, with the circle selection tool, i drew a circle inside the tag template (red area only)
to outline the inner red background ~ selections invert. On layer palette, promote selection to layer. Select none. This should promote only the frame.
Choose a tree template of choice. Resize 15%. Centre to tag. Place this tree between the tag template and
the promoted selection layer. Erase any part of the tree that overhangs. Dropshadow both the tree and the promoted selection layer.
On the original tag template layer ~ duplicate.
Again on the original tag template layer, go to adjust blur ~ gaussian blur of 20 radius.
I used Xenoflex 1 ~ baked earth ~ setting: crack length 5; width 1; variation 0, random seed 59, brightness 16, sharpness 87
lighting 135, 60. Sharpen.
Now its time to personalize your tag by adding embellishments. I resized most at 20%, rotating either R or L, 15 degrees.
Sharpen 'n d/s.
Add rafia/bow supplied. D/s all elements.
For beadstring, I resized the rope thread by 65%. D/S of choice. Add each bead onto the thread to fit, according to the saying you choose.
I resized each bead by 24%.
When done, hide thread layer and merge all beads visible. D/s beads. Merge visible again with thread.
Resize entire beaded thread by 75% or to your liking.
Copy 'n paste onto working image.
Add tube of choice. Duplicate. Place bead string between these two tube layers. Erase any part of the top tube layer
so the beaded string shows through. I wanted to make her hand look like its overtop of the beads.
It helps to decrease the opacity of the top tube layer to about 50% when erasing, to better
visualize what part needs erasing. Remember to increase opacity of top tube back to 100% when done.
Dropshadow your tube.
Add your copyright, watermark and name. Font I used is Susie's Hand. D/s.
Merge all flatten and save as a .png.
I hope you enjoyed this tutorial!