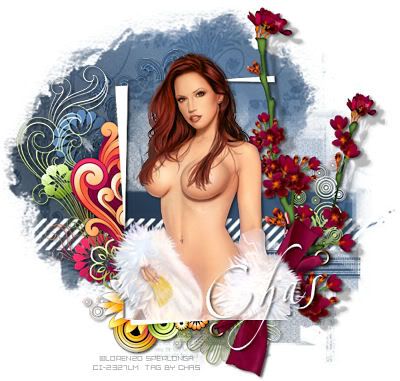 This tutorial is written for those with a working knowledge of PSP.
Supplies Needed:
I am using Corel PSP X2 version but any version will do.
Tube of choice. I am using the gorgeous artwork of Lorenzo Sperlonga. You can purchase a license to use his art at
CILM
.
Freebie Retro frame ~ Retrodiva Be-Free Collage Frame
HERE
Thank you Tracy! ♥
WynterMask14030811 found
HERE
under Wynter Masks Set 4 (scroll down to her first mask set)
Thank you Wynter! ♥
Font I used is Zapfino Linotype Two, which is a pay font and cannot be supplied.
* * * * *
This tut will be a quickie.
Open up a new transparent image 600 x 575 pixels and flood fill white. Open frame of choice or frame I used (be-free frame collage) and using crop tool,
crop merged opaque. Click on centre to crop. Resize this frame element by 20%.
Copy 'n paste onto working canvas.
Erase some of the green stem from the bottom of the frame using eraser or selection tool.
Duplicate frame for added effect.
Add a dropshadow if desired. I use a light D/S of 2,3, 69, 5 blur, black.
Add layer above white background. Using your flood fill tool, choose two colors (one light, one dark)
from your frame or tube to make a gradient.
I used stroke color 496c93, fill color 1f2e3f.
Set foreground color to gradient, linear angle 45, repeats 2, invert unchecked.
Flood fill this layer. Adjust ~ Blur ~ Gaussian blur ~ radius 25.
Layers ~ New Mask Layer ~ from image ~ find Wyntermask14030811.
Click Ok. Delete mask from layer palette. Merge group.
Choose tube of choice. Copy 'n paste below frame. Duplicate.
Move duplicate tube layer above frame.
Erase any part of this top tube layer that extends beyond the frame by using the rectangular selection tool or eraser.
Erase any part of the bottom tube layer as well if needed.
Dropshadow the top tube layer, with the drop shadow checked on a NEW layer.
I used 2, 3, 69, 9 blur, black.
Erase any part of the undesired dropshadow.
Add your copyright, watermark and name.
Add your favorite dropshadow or I used 2,3, 69, 5 blur, black (D/S on new layer Unchecked.)
Merge all flatten and save as a .png.
I hope you enjoy your tag!