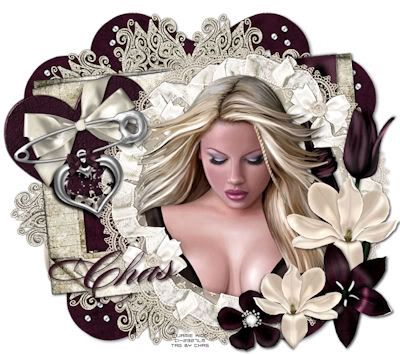 This tutorial is written for those with a working knowledge of PSP.




Supplies Needed:


I am using Corel PSP X2 version but any version will do.
Plugin ~ Mura's Filter Meister ~ Copies
Tube of choice. I am using the beautiful artwork of Jamie Kidd. You can purchase a license to use his art at
CILM
.
PTU Scrap kit ~ Victorian Love Affair by Kristi can be purchased
HERE
Font used is Burgues Script which is a pay font.
* * * * *
Open up a new transparent image 625 x 575 pixels and flood fill white. Resize element sdv1frame1 by 20%. Centre to canvas, moving slightly to right.
Rotate 15 degrees to left. Duplicate ~ mirror. Merge down. Dropshadow 2,2,55,5 blur, black.
Open sdbutter2. Resize 20% and again at 55%. Copy 'n paste.
Using Mura's Filter Meister ~ Copies ~ Encircle ~ #12, X =60, Y =60 all other settings standard
Sharpen. Move slightly to left with mover tool. Dropshadow as above.
Open sdpaperframe. Resize 20% and again at 80%. Copy 'n paste.
Rotate 5 degrees to left. Dropshadow.
With selection tool set at point to point, draw a rectanglur selection, around inner part of frame.
Resize paper of choice to 500 x 500. I used the darkest burgundy paper sdmtgp1. Copy 'n paste. Invert selection. Delete.
Select none. Arrange ~ move down so paper is below frame.
Open sdlaceframe. Resize 25% and again at 90%. Copy 'n paste.
Adjust ~ Sharpen ~ unsharp mask ~ radius 1, strength 30, clipping 3
luminance checked. Ok.
Add a very soft D/S to lace frame of 0,0, 45, 5 blur, color #404040.
Move lace frame to right.
Copy tube of choice. Place beneath lace frame. Duplicate. Move copy of tube layer above lace frame.
Erase any part of the tube that overhangs on the bottom on both tube layers.
Erase any part of the copy of tube layer so lace frame shows through.
D/S this tube layer with dropshadow checked on NEW layer. Erase any undesired dropshadow.
Now add your embellishments. I added the dark burgundy ribbon. Resize and rotate 90 degrees to make it look like its wrapping paper frame. Use selection tool to shorten ribbon to size of frame.
Using your lighten/darken tool, right click on edge of ribbon to darken the edge, giving the appearance its wrapping behind the frame.
Add heart element if you wish. Resize flowers and tulip stem to liking. Adding D/S as above. *uncheck on new layer for D/S*
Add bow of choice. Resize. Rotate 25 degrees to left. Sharpen. D/S.
Ad sdcharm element. Resize and D/S.
Sharpen as previously done.
Add your copyright, watermark and name.
Add your favorite dropshadow or I used 2,2, 55, 5 blur, black
Merge all flatten and save as a .png.
I hope you enjoyed this tutorial!