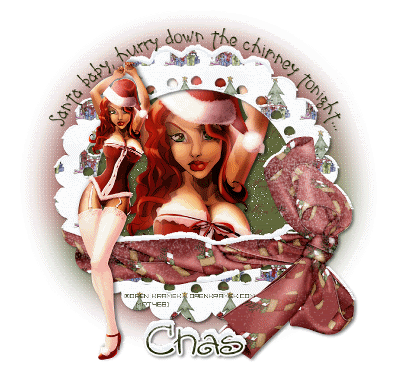 This tutorial is written for those with a working knowledge of PSP.
Supplies Needed:
I am using Corel PSP X2 version but any version will do.
Two tubes of choice. I am using the artwork of Oren Kramek. You can purchase a license to use his work at
MPT
.
FTU scrap kit by Bluey
HERE
called Tis The Season. Thank you Bluey! ♥
Snow animation supplied
HERE
.
Plugin In EyeCandy5 ~ Nature ~ Snowdrift.
Optional: Plugin In EyeCandy4000 ~ Gradient Glow
Optional: Plugin Xero ~ Porcelain
Font I used for the curved text is CK Huckleberry
and the font for the name is AmoreATT which is a pay font.
Grab a coffee and let's get started...
* * * * *
Open up a new transparent image 675 x 625 pixels and flood fill white. You can resize later in A/S.
Open Frame 3. Resize 85%. Copy 'n paste on canvas, moving slightly to right and down, to centre to canvas.
Using your selection tool ~ circle, draw a circular selection to encompass the centre and small holes of the frame.
Open paper of choice; I used Paper 7 ~ copy 'n paste as a new layer.
Selections ~ invert ~ delete. Do NOT deselect. Move paper layer down below frame.
Open tube copy and paste as a new layer above the paper ~ delete. Select none.
Add D/S of choice to tube 'n frame layers.
Optional: Tube layer ~ use plugin Xero ~ Porcelain ~ standard settings (softness 50, strength & brightness 128)
Open Frame 4 ~ resize 85%. Copy 'n paste on top of other frame layer.
Move frame 4 to match other frame (you do not need to be precise here)
When happy with placement, erase some of the bow area if desired (we are only interested in blurring the frame)
Adjust ~ Blur ~ Gaussian Blur ~ Radius 30.
Move this blurred layer below your paper layer.
Add texture effect ~ weave ~ Gap size 1, width 5, opacity 1, both colors white, fill gaps checked.
Back to original Frame 3 layer, add EyeCandy5 ~ Nature ~ Snowdrift
Settings as below:
Lighting direction 85, shadow strength 10, color #092e65.
Open other tube of choice, copy 'n paste as desired. D/S.
To add curved text, use Preset shape ~ Eclipse ~ choose circle ~ create on vector ~ width 2 px ~ color black foreground only.
Draw a vector just beyond the outer edge of the circular frame. Objects ~ Align ~ centre to canvas. Move if needed to surround frame.
click on text, choose font of choice or CK Huckleberry, color dark green #1f2704
Point cursor to top 'n midline of frame, click on vector til you see 'A' in cresent shape.
Type Wording of choice ~ sz 36 px ~ apply
on layer palette, click on + sign on your Vector 1 layer 'n 'X' out the black circular layer. Right click on text layer ~ convert to raster layer.
D/S this text layer with a light setting or 1,1, 50, 5 blur, color 404040
Add any embellishments you desire to customize your tag. D/S these. I chose to not add any.
Add your copyright, watermark and name.
For name, I used the same color dark green with a gradient glow of choice and added same snowdrift setting as above. D/S.
Save as .png or .jpeg if you do not wish to animate.
To animate:
delete the white background layer
close off all the layers ABOVE the circular paper 7 layer
You should have only the paper 'n blurred layer visible ~ copy merged
Paste in A/S as a new animation ~ make 20 frames to match the snow animation ~ select ALL ~ propagate paste
Open snow animation ~ select all ~ copy
Drag the first frame of the snow animation over the first frame of the new animation
Centre to canvas. The animation won't fill the centre but the top layer should rectify that.
Back to PSP, 'X' out the blurred 'n paper layer (the ones we first copied) and UN 'X' the remaining top layers (face tube layer 'n above)
Copy merged ~ paste in A/S as a new animation
duplicate frame to make 20 ~ select ALL ~ copy
Drag first frame of this top layer over the working animation, centre as desired.
You may need to undo this paste 'n drag method a few times to get snow in desired location.
When happy with animation, change animation properties to opaque white.
Resize tag in A/S using 90% bicubic if desired.
Optimize ~ Save as a .gif.
Enjoy!