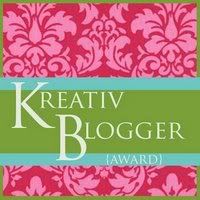 I have to thank Randi of RBrown Kreationz for this award.
Thank you Randi! ♥ I'm honored and tickled you chose me.
Now I get to share 7 things I love with you all:
I love my baby brother..he means the world to me.

I love late night phone calls from a special someone.

I love the sound of rain and thunderstorms.

I love to ski, my favorite winter pastime..next to hockey of course.

I love shopping though I don't do it as often as I'd like.

I love travelling...I'll be off to Australia the early part of next year. wo0t!

I love surprises..be it a hug or thoughtful gesture.
Now I get to pass this on to other fellow bloggers 'n since
I haven't had time to blog as much lately...I'll gladly choose
one person who impresses me....namely
Beaches of Blame Beaches; she is an amazing tutorial writer
and inspires me daily. She makes it look so easy.
Congrats "B"...well deserved! ♥