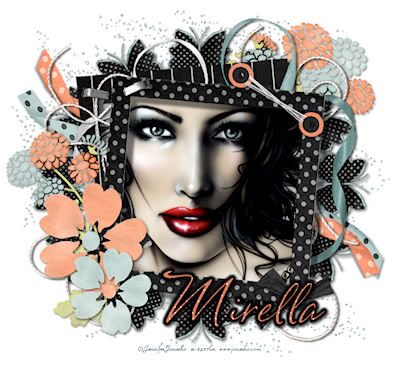 This tutorial is written for those with a working knowledge of PSP.
Supplies Needed:
I am using Corel PSP X2 version but any version will do.
Tube of choice. I am using the beautiful artwork of Jennifer Janesko. You can purchase a license to use her art at
CILM
.
FTU scrap kit by Mirella called Beauty In You found HERE Thank you Mirella! ♥
Please note: for the purpose of this tutorial, I used the taggers size kit.
Plugin: Mura's Meister ~ Copies
Font used is KatTailHMK, which is a pay font and cannot be supplied.
* * * * *
Open up a new transparent image 625 x 575 pixels and flood fill white.
Open the dotted black frame, copy 'n paste as a new layer on your working image.
Selections ~ select all ~ float ~ defloat
Open striped paper 11, resize to 500 x 500 pixels, copy 'n paste as a new layer.
Selections invert. Select none.
Move this frame beneath the dotted frame. Rotate 5 degrees to left.
Back to dotted frame, rotate it 5 degrees to right.
Place frames to your liking.
On the lower stripped frame, using the magic wand, click inside the frame
Selections ~ modify expand by 5
Open paper of choice or Paper 10, resized to 500 x 500 pixels. Copy 'n paste
as a new layer. Selections invert ~ select none. Move this paper
below the stripped frame. You may opt to do the same with dotted frame as well.
Drop shadow both frames.
Open dotted paperbutterfly. Resize 50%. Copy 'n paste on your image.
Using Mura's Meister ~ Copies ~ setting: Encircle ~ # 12, Shift X = 65, Shift Y = 65, all other settings remain same.
D/S 2/2/50,5 blur, black
Move this butterfly layer above your white background.
Open sparkles blue. Copy 'n paste as a new layer on top of the white background
but below the butterfly layer. Resize it 110% smartsize.
Now personalize your tag with different ribbons, strings & stamp flowers.
I resized some 75% and others 85%. Place your elements
on different layers. See reference tag. D/S each element.
Add the staple backwards element and the blue fastener. D/S.
Add your copyright, watermark, URL and name.
Merge all flatten and save as a .png or .jpeg.