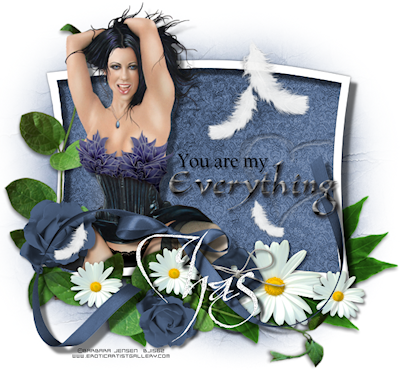 This tutorial is written for those with a working knowledge of PSP.
Supplies Needed:
I am using Corel PSP X2 version but any version will do.
Tube of choice. I am using the stunning artwork of Barbara Jensen. You can purchase a license to use her art
HERE
.
FTU scrap kit by Jaelop Designs called
Praise The Lord
. Thank you Jael! ♥ Please leave her some love when downloading.
Font used is called Elven Common Speak found
HERE
* * * * *
Open a new transparent image 700 x 600 pixels. You can resize later if desired.
Do NOT fill the bg white so that you will be able to see the white frame used in the next step.
Open frame # 23. Resize 25%. Copy 'n paste as a new layer on working image.
Using the magic wand, click inside the frame (modify selections, expand by 5) OR using the selection tool, set to point-to-point, draw a selection
within the frame and add Paper 7, resized to 600 x 600 pixels, as a new layer.
Selections invert ~ delete. Select none.
Move this paper below the frame layer on the layer palette.
Drop shadow the frame using the default dropshadow setting of 10,10, 50, 5 blur, color black
and another soft D/S of 0,0, 50, 5 blur, black.
Open leaf 14, resize 20%, copy 'n paste as a new layer above the back ground layer but below the frame 'n paper layer.
Rotate this leaf 90 degrees to the right. Move to bottom 'n right of frame.
Optional: You may colorize the leaf using hue 14, saturation 113. Also, you may change the contrast/brightness to -20/0.
Add D/S of 3, 3, 50, 5 blur, black
Open leaf 20, resize 20% and place according to my reference tag or to your liking. Use pic tool (or deformation tool)
to rotate the leaf as well to place at bottom of frame. D/S as above 3,3, 50, 5 blur, black.
Paste the leaf again as a new layer (the leaf is still on your clipboard) and rotate to left and place to left of frame.
D/S the leaf.
Open tube of choice. Copy 'n paste as a new layer below frame layer but above the paper layer.
Move tube to left of frame as in reference tag.
Duplicate tube layer. Move duplicate copy above frame layer.
Erase any part of the bottom tube layer that may extend below the bottom.
Erase any part of the duplicate copy tube layer as well that may extend beyond the bottom of the frame.
D/S the top duplicate tube layer with default setting BUT select the drop shadow setting to a new layer.
Erase any undesired drop shadow.
Open word art of choice. Pavlita has several to choose from, on her site.
Resize wordart 20% or to your liking. Place to right of your tube.
Click on transparent background layer. You may flood fill white now if you desire.
Add a new raster layer above this background layer.
Open paper of choice or Paper 2. Resize this paper to 600 x 600 pixels. Minimize.
Find the air brush, setting to default circular but change size to 300, hardness 50, step 25, density 100, thickness 100, opacity 100
Now click on foreground on your material palette, select pattern and find paper 2 (or paper you just resized)
Using the airbrush, now spray this paper pattern in random areas of your tag to give it the look of a masked background.
I like using this method when I get tired of using masks! lol
Now customize your tag with different flowers and buttons, resized to your liking.
Remember to D/S each element as well (be sure to uncheck D/S to new layer.)
Also remember to sharpen your elements when resizing them
to give them that polished look.
Open bow ribbon 3. Resize 20%. Place near bottom of frame, either above or below the flowers, to your liking.
D/S the ribbon with the default D/S setting of 10,10, 50, 5 blur, black.
Open feathers 24. Using selection tool, set to point-to-point. draw a selection around
one feather only. Copy 'n paste as a new layer on your working image. Resize feather by 20%.
Duplicate the feather a few times, resizing each layer to your liking.
Close off white background layer, choose bottommost blue airbrushed layer
and, using the crop tool, select crop to merged opaque layer. Click centre.
Re-open white background layer.
Add your copyright, URL, watermark and name.
Add your favorite dropshadow to your name or the default setting.
Merge all flatten and save as a .png.