Simply sign up on the website link, top right corner. Turn off lights and power
for one hour starting 8:30 pm local time and sit by candle light, step outside,
look at the stars like I did or roast a marshmallow over a tea light! lol
It's all fun and its amazing how one hour can make a difference.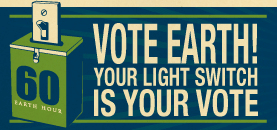 Click HERE ♥