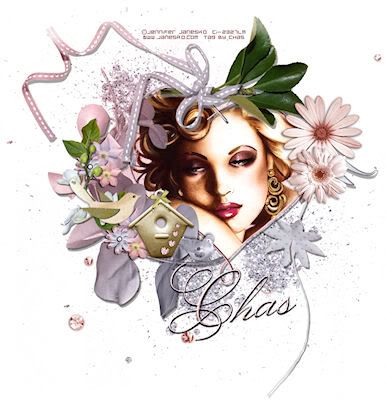 This tutorial is written for those with a working knowledge of PSP.
Supplies Needed:
I am using Corel PSP X2 version but any version will do.
Image or tube of choice. I am using the alluring artwork of Jennifer Janesko. You can purchase a license to use her art at
CILM
.
FTU scrap kit by Coralie called One Day One Year ~ found HERE. Thank you Coralie! ♥
Touch of Sweetness Cluster Frame by Tinette found HERE Thank you Tinette! ♥
Font used is Monsieur La Doulaise, a pay font
This will be a quickie tut!
* * * * *
Open the cluster frame of choice. Crop ~ Merged Opaque. Resize now 20%.
Move the cluster frame slightly down.
Using the selection tool, freehand selection ~ point to point, draw a selection just beyond the inside of the frame.
Open image of choice. Resize if needed. Copy 'n paste as a new layer. Selections ~ invert. Delete. Selections ~ none.
Move the image layer below the frame on your layer palette.
Add a new raster layer, flood fill white or in my case, I flood filled black.
Move this layer to the very bottom on the layer palette.
NOTE: If using a tube instead of an image, you may want to add a paper layer before deselecting the selection.
Open the CoraLie element 9 (pink sequin layer). Resize 25%. Colorize ~ Hue 6, Saturation 103
Copy 'n paste as a new layer above your background layer.
Now personalize your tag by adding different flower elements, resized 10-15%. D/S 1, -1, 50, 5 blur, black
I also colorized one of the flowers ~ same setting as above.
Add the bird and the birdhouse ~ both resized 10%. D/S each.
Back to the cluster frame layer, using your eraser tool, find the Fuzz Soft setting on the drop-down menu,
standard setting or sz 150, step 5, density 100, rotation 0, opacity 100
Erase some of the outermost edges of the splatter to soften its effect.
To better visualize this, be sure your background layer is black.
Crop ~ Merged Opaque
If desired, resize your tag at this point, 90 % smartsize, all layers checked.
Add your copyright, URL, watermark and name.
Merge all flatten and save as a PNG or JPEG.