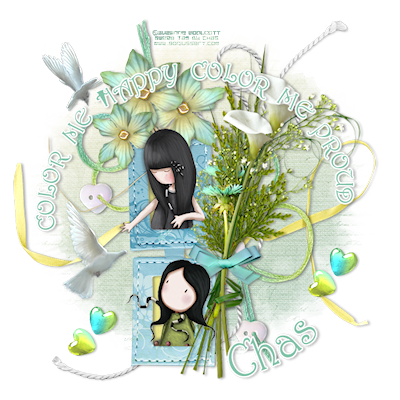 This tutorial is written for those with a working knowledge of PSP.
Supplies Needed:
I am using Corel PSP X2 version but any version will do.
Two tubes of choice. I am using the gorjuss artwork of Suzanne Woolcott. You can purchase a license to use her art
HERE
.
FTU mini kit by KimB called Colour Me Happy found HERE Thank you Kim! ♥
WSL_mask236 by Chelle found HERE Thank you Chelle! ♥
Doves found HERE If these belong to you, please contact me so I can credit you or remove.
Optional: Eye Candy 4000 ~ Gradient Glow for wordart
Font for the wordart and name is Harrington found HERE
* * * * *
1. Open a new transparent image 600 x 600 pixels. Flood fill white.
Add a new raster layer, selections ~ select all.
Open paper05, copy 'n paste into the selection. Selections ~ none. Sharpen.
Open WSL_mask236, minimize. Layers ~ New Mask Layer ~ from Image ~ find the mask and apply. Merge group.
2. Open the frame, resize to 600 pixels in HEIGHT. Copy 'n paste as a new layer.
Using your selection tool, draw a rectangular selection just beyond the inside of the top frame,
open paper03, resized to 500 pixels, copy 'n paste as a new layer. Selections ~ invert, delete.
Move the paper layer below the frame layer. Duplicate the paper layer and with mover tool,
move the copy paper layer down, to fill the lower frame. D/S the frame layer with 1/3/45, 5 blur color #404040.
3. Open two tubes of choice, resized to 50% if using same tubes.
Copy 'n paste as a new layer above the paper layer, below the frame layer.
Duplicate the tube and move the duplicate copy above the frame.
Using eraser tool, erase any part of the tube to make it appear its reaching out of frame.
Do same for other frame. D/S the top tube layers.
4. Open flowercluster, resize 20%, copy 'n paste. Duplicate. Resize duplicate copy 80%.
On original flower layer, rotate with pic tool slightly to right. Align the bows of these
flowers together (see reference tag).
5. Add any elements you wish. I resized white string02 to 500 px in height.
Yellow ribbon resized to 600 px in width. Use brightness/contrast on ribbon with setting: B 30, C 0.
Move these elements above the mask layer.
Add flower1, resize to 15%. Duplicate twice and resize duplicates 75%.
Add a colored bead of choice to center of each flower.
Resize the button string to 500 px wide. Add as a new layer, mirror 'n rotate with pic tool to right.
Resize hearts 10% and use brightness/contrast 30/0 (same setting as above) to brighten the hearts.
D/S all elements 1,1, 35, 5 blur, color #404040
(I chose to erase the raffia and ring on the frame layer and cover it with flowers instead.)
6. Add doves. Use same brightness/contrast setting as above but repeat once or twice
to brighten the color of the doves. D/S.
7. To make wordart, use preset eclipse, foreground on black, fill nil, line style solid line, width 3,
draw an eclipse around circumference of tag. Leave as a vector layer.
Now choose font, sz 36 px, foreground nil, fill color #85c4aa
click on eclipse layer, move cursor over the eclipse you drew until you see the letter A with a cresent moon beneath.
Type out wordart of choice or mine COLOR ME HAPPY COLOR ME PROUD in caps.
Apply. On your layer palette, click on the + sign and click on the 'eye' of the new eclipse layer to hide it.
Convert the text layer to a raster layer.
Use EyeCandy 4000, gradient glow with setting: fat, color white, opacity 100, width 3, corners 0, overall opacity 100.
D/S your wordart.
Add your copyright, URL, watermark & name.