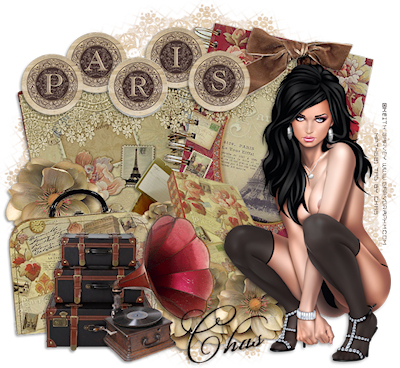 This tutorial is written for those with a working knowledge of PSP.
Supplies Needed:
I am using Corel PSP X2 version but any version will do.
Tube of choice. I am using the seductive artwork of Keith Garvey. You can purchase a license to use his work at
MPT
.
FTU Scrap kit by Cajoline called Paris found HERE
Mask by Essex Girl called Stencil Flowered Circle found HERE
Optional Plugin: Xero ~ Radiance
Font for the name is Bickham Script Fancy found HERE. Scroll down halfway til you see name of font and click on it.
1. Open up a new transparent image 625 x 575 pixels and flood fill white.
Add a new raster layer, selections ~ select all
Open paper 4, copy 'n paste into the selection. Selections ~ none.
Open the stencil flowered circle mask, minimize it.
Layers ~ New Mask Layer ~ From Image ~ find mask and apply. Merge group.
Do same with Paper 3. Add new raster layer ~ select all~ paste paper 3 into selection. Apply mask and merge group.
2. Open journal element 18, to help clean up the edges, go to Selections ~ select all
Float, defloat, modify selections ~ contract 1, invert and delete. Selections ~ none.
Copy 'n paste as a new layer on working image. Image rotate 12 degrees to left. D/S with setting of choice.
3. Open Paris journal element 17, copy 'n paste as a new layer.
Image ~ free rotate 12 degrees to right. Sharpen. D/S.
4. Open bow 3, resize 75%, copy 'n paste as a new layer. Image mirror ~ rotate slightly to right using deformation tool or pic tool. Sharpen and D/S
5. Now to personalize your tag, open element 13, resize 50%, copy 'n paste as a new layer. Place according to reference tag.
Gramophone 1, suitcases 12, suitcase 15 and flower of choice (I used a flower from Cajolines' kit called Vivaldi found HERE). Duplicate flower a few times
and resize and place accordingly. I also added lace from another kit called Souvenir d'Enfance by Cajoline found HERE but this is entirely optional.
Simply resize and rotate with pic tool, sharpen and D/S.
6. Resize P-A-R-I-S alpha 75% and place letters as you wish. D/S
7. Add tube of choice, my tube was resized 90% then D/S with setting of choice.
Optional: Use plugin Xero ~ Radiance with following setting:
Strangeness 163, Charm 250, Truth 178, Beauty 132
Add copyright, URL, watermark and Name.
Merge all flatten and save as a .jpeg or merge all visible and save as a .png.
Hope you enjoy your new creation!