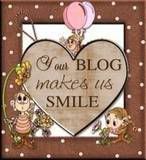 Thank you to Lula for this touching award!
Please visit her site HERE, she has beautiful scrap kits.
The rules for this award ask to pass it on to five other blogs and leave them a comment to let them know. My choices are:
1. Kylies Tutorials ~ love her latest tutorials. She has such natural talent and I highly recommend you check her blog out.
2. Sylly Creationz ~ awesome rockin' tutorials by Sylvie! I love her style and flair. Please visit her blog, you'll see what I mean.
3. Tags by Mer ~ tutorials by Mercy! Love her creativity. Her site 'n music makes me smile. Keep up the great work, Mercy.
4. Tinette Desins ~ Tinette has amazing kits and freebies. Again, I highly recommend her site.
5. Scrapz 'n Bitz ~ awesome goodies by Vanessa. Love her style and creativity.
Now Ladies, please pass the award on to five other blogs you love! ♥