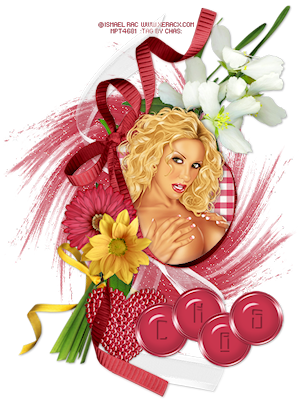 This tutorial is written for those with a working knowledge of PSP.
Supplies Needed:
I am using Corel PSP X2 but any version will do.
Tube of choice. I am using the amazing artwork of Ismael Rac. You can purchase a license to use his art at AMI.
FTU Scrap Kit by Mirella called BananaStrawberry Delice found HERE. Thank you, Mirella!♥ Grab the tagger size!
Absolutely LOVE these colors.
WSL_Mask38 by Chelle found HERE. Thank you Chelle! ♥
Optional Plugin: Xenoflex 2 ~ Constellation
Font for name is Kashmir found HERE
* * * * *
1. Open up a new transparent image 500 x 500 pixels. Flood fill with color #bc2c3f
Open WSL_mask38, minimize. Layers ~ New Mask Layer ~ from Image ~ find mask 'n apply.
Merge group. Minimize this masked image for now.
2. Open ribbon element84, resize to 600 px. in HEIGHT, then Image Canvas size ~ resize to 500 x 700 px, centered.
Optional: Darken ribbon by using brightness/contrast -20 / 0 respectively.
Add a new raster layer, flood fill white. Move this white background layer below the ribbon element.
Copy the masked layer we made earlier 'n paste as a new layer above the white background.
Use Effects ~ Distortion ~ Twirl ~ 180 degrees.
Optional: Using Xenoflex2 ~ Constellation ~ use Small Star Constellation setting OR see below: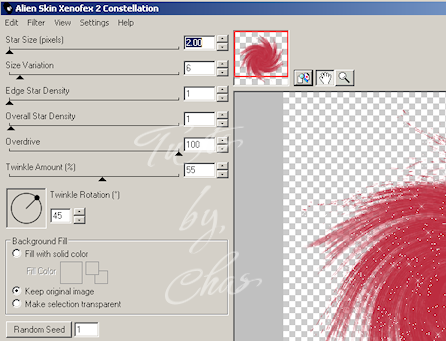 3. Select ribbon layer, using magic wand, click inside circular portion of ribbon ~ selections ~ modify ~ expand by 5 pixels.
Open paper 16, copy 'n paste as a new layer
Selections ~ invert ~ delete on keyboard ~ do NOT deselect yet.
Move this paper below the ribbon element on the layers palette.
Open tube of choice ~ resized if needed ~ copy 'n paste as a new layer above the paper layer but below the ribbon layer.
With selection still intact, use the eraser tool (sz 30-50) to erase the bottom portion of the tube, that extends beyond
the BOTTOM of the ribbon circle. Selections ~ none.
Duplicate the tube layer and move this duplicate copy above the ribbon layer on the layer palette.
Again, using eraser tool on duplicate tube layer, erase part of the tube that overlaps the lower portion of the ribbon circle.
D/S the bottommost tube layer and the ribbon layer with your favorite setting or 1/1/45/4 blur color #404040.
4. Open green element33, resize 85%, copy 'n paste as a new layer above the masked layer.
Image ~ free rotate ~ rotate 60 degrees to left. D/S.
Open flower element41, resize 75%, copy 'n paste as a new layer above the greenery layer. D/S.
Open element 31, resize 85%, copy 'n paste as a new layer above your flower layer.
D/S. See reference tag for placement.
5. Now customize your tag with added flowers, resized 25 - 50%. Heart element ~ 55%.
D/S each element added.
6. For name, resize element53 ~ 25%. Copy 'n paste as topmost layer.
D/S & duplicate as many times needed for your name.
Open Kashmir font, minimize, using sz 36 px. foreground nil, background white
Type first letter of name. Center to button (element 53)
Using Effects ~ 3D effects ~ cutout ~ setting: v2, h2, opacity 42, blur 2.5.
color black (fill with interior color UNchecked). Apply.
Continue to add each letter of your name to each button.
7. When done adding name, close off white background ~ merge visible
Choose Crop tool on sidebar then on top tool bar, find 'Snap crop rectangle to'
choose Merged Opaque. Click on center node to apply.
Add copyright, URL and watermark.
Merge visible and save as a .PNG or open white background and merge all layers flatten and save as a .JPEG
I hope you enjoy your new tag!