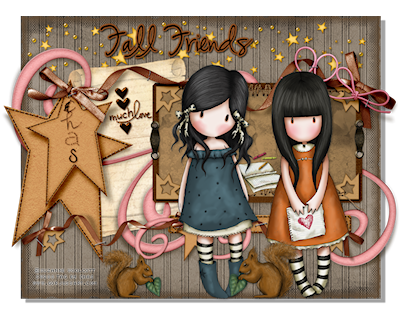 This tutorial is written for those with a working knowledge of PSP.
Any resemblance to any other tutorial is purely coincidence.
Supplies Needed:
I am using Corel PSP X2 version but any version will do.
Tubes of choice. I am using the gorjuss artwork of Suzanne Woolcott. You can purchase a license to use her art
HERE
.
Hey Diddle Diddle Frames by Kimberly Stewart found
HERE
FTU Scrap kit called Grunge3 found HERE and Heritage Add-On Freebie found HERE both by Aurien. Thank you! ♥
Plugin: EyeCandy 4000 ~ Gradient Glow
Optional Plugins ~ Xenoflex 1 ~ Stain
Font for name is 2Peas GG Mix found HERE
Font for wordart is 2Peas GGs Love Me found HERE
Font for Fall Friends is Susie's Hand found HERE
* * * * *
1. Open hey diddle diddle blogheader2 frame, resize to 700 px wide. Resize canvas to 700 x 550 px. We will resize smaller later.
Add a new raster layer, flood fill white and move this layer below the frame to better visualize your work.
Using selection tool ~ freehand ~ point-to-point, draw a selection around the open frame on right.
Open Grunge Paper 2 copy 'n paste as a new layer ~ selections invert ~ delete ~ selections none.
Move this paper layer below the frame.
2. Open hey diddle diddle divider2, copy 'n paste as a new layer overtop the frame. Move downward.
Open hey diddle diddle divider 1 (stars) copy 'n paste as a new layer above white background. Move upward.
3. Add a new raster layer above your white background, Selections ~ select all ~ open Grunge Paper 12
and paste into the selection. Resize this paper layer 90% (all layers UNchecked) Sharpen once.
Using Xenoflex 1 ~ Stain ~ settings ~ 20, 26, 4 color #644b32
D/S with favorite setting.
4. Open Heritage Scroll Paper1, resize 50%, copy 'n paste as a new layer above the star layer.
Free rotate ~ 7 degrees to left. Duplicate ~ merge down ~ D/S 1/1/40/ 5 black
5. Using 2Peas GGs Love Me font, type Capital R, sz 72, anti-alias smooth in fill color black
Center it over scroll paper. Use effect ~ inner bevel ~ bevel 2, width 2, smoothness 2, depth 22, ambience -5, ambience 36
color white, angle 319, intensity 36, elevation 45 D/S as above
Using Change-to-Target tool sz 17, hardness 50, step 10, density 100, thickness 100, opacity 100
change color of this wordart to #9a5322
6. Add tubes of choice. D/S 1/1/40/5 black, adding any other elements of choice.
I used the squirrels, notebook and crayons, part of Suzanne Woolcott tubes. D/S each.
Add Heritage eyelet 1 ~ resized 25% ~ copy 'n paste on small inner frame (see reference tag)
Rotate 90 degrees to left. Duplicate and move to opposite side of inner frame.
7. Type in fill color black, Fall Friends in Susie's Hand font sz 72.
Convert to raster layer and using EyeCandy 4000 ~ gradient glow ~ in color #9a5322
Opacity 100, glow width 3, soft corners 25%, overal opacity 100%. D/S
8. Resize entire tag 85-90% smartsize (all layers checked)
9. Add your copyright, URL, watermark and name in font 2Peas GG Mix in black, placing on star.
Using change to target tool, change color of name to #9a5322.
Merge all flatten as save as a .jpeg or delete white background, merge visible and save as a .png.
I hope you enjoy your gorjuss creation!