This tutorial is written for those with a working knowledge of PSP.
Supplies Needed:
I am using Corel PSP X2 but any version will do.
Tube or image of choice. I am using the stunning artwork of Jennifer Janesko. You can purchase a license to use her art at CILM.
FTU Freebie Add-On called Autumn Approaches found HERE. Thank you, Becca! ♥
Vix Mask_238 found HERE Thank you Vix! ♥ Scroll down to masks of July 25, 2008 (there is no preview but the mask is in the 4shared link)
Optional Plugin: EyeCandy 4000 ~ gradient glow for name only
Font for name is 2Peas Gingersnap found HERE
* * * * *
1. Open Circle frame2, resize it to 400 px wide. Resize canvas size to 625 x 575 pixels.
Add a new raster layer, flood fill white and move this layer below the circle frame.
Using magic wand, click inside circle frame layer ~ modify selections ~ expand by 5 pixels.
Open tube/image, resize image 85-90%, copy 'n paste as a new layer ~ selections ~ invert ~ press delete on keyboard.
Move tube/image layer beneath circle frame layer on layer palette.
Sharpen tube/image layer.
2. Still on circle frame layer, selections All ~ selections float, defloat
Add a new raster layer and flood fill the selection with color # 321e07.
Selections ~ none.
Change the blend mode of this layer to hard light and lower the opacity to 84 on the layer palette.
Drop shadow the original circle frame layer with a favorite setting or 0, 2, 80, blur 20 color #404040
3. Add a new raster layer above the white background layer, selections ~ select all
Open the leather paper, resize it to 600 pixels wide, copy 'n paste into the selection ~ select none.
Sharpen once.
Open Vix Mask 238, minimize.
Layers ~ New Mask Layer ~ from Image ~ find mask ~ apply.
Merge group.
4. Using preset shape, find burst 3: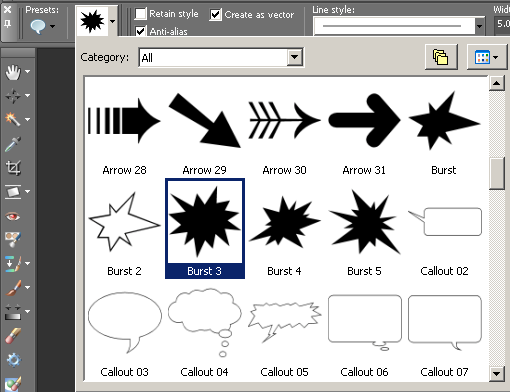 Foreground nil, background choose pattern and find the same leather paper used earlier in the drop down menu of your materials palette.
Holding shift key on keyboard, draw a shape above the masked layer but below the tube and circle frame layer,
to a size beyond the circle frame. See reference tag.
When happy, convert to raster layer and drop shadow with same setting as earlier.
5. Open wordart cluster, using magic wand, with a tolerance setting of 10, mode add(shift), mode color, feather 0, contiguous & anti-aliased checked,
click magic wand on word 'Autumn' and add a new raster layer, flood fill with color of choice or red color #781411.
Selections ~ none. Merge visible. Resize cluster to 600 px wide.
Copy 'n paste as uppermost layer.
Rotate ~ free rotate ~ 5 degrees to left. Duplicate this wordart cluster and rotate the duplicate layer a little more to the left using pick tool.
Move this duplicate layer below the orginal cluster layer on the layer palette.
Using eraser tool, erase the wordart 'Autumn' on the duplicate copy only.
D/S both cluster layers.
6. Add your copyright, URL, watermark and name.
For name, use foreground nil, fill color of choice or #2c2016. Convert to raster layer.
Using EyeCandy 4000 ~ gradient glow ~ Fat setting ~ color white ~ slide white color bar to center of scale.
Basic tab ~ glow width 3, soft corners 25, overall opacity 100%. Draw outside selection checked.
Drop shadow with your favorite setting.
Merge all flatten and save as a .JPEG or close white background, merge visible and save as a .PNG
I hope you enjoy your fall creation! Below is another tube option.