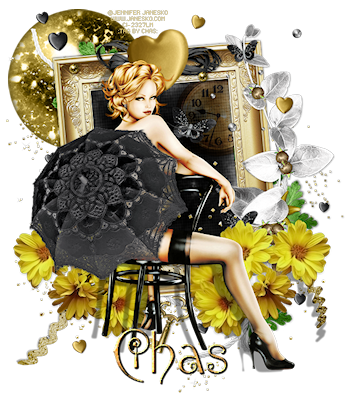 This tutorial is written for those with a working knowledge of PSP.
Supplies Needed:
I am using Corel PSP X2 version but any version will do.
Tube of choice. I am using the beautiful artwork of Jennifer Janesko. You can purchase a license to use her art at
CILM
.
FTU scrap kit by ShineAngel called A Splash of Gold found HERE Merci ShineAngel! ♥
*Scroll down a bit until you see the 4shared link and take note of the password*
Optional Plugin: Lokas Software ~ 3D shadow
Font used is called Banquet, a payfont
* * * * *
1. Open a new transparent image 600 x 700 pixels and flood fill white.
Open the ornate gold frame, resized to 400 px in height. Copy 'n paste as a new layer.
Using magic wand, click in center of frame, selections ~ modify ~ expand by 5 px. Add a new raster layer.
Open black paper 12, copy 'n paste INTO the selection. Selections ~ none.
Move paper layer below gold frame.
Rotate the paper ~ rotate ~ free rotate ~ 5 degrees to left and do the same with the gold frame.
Sharpen the gold frame & paper once.
2. Open the wooden clock face ~ resize 30% and then again at 80%
Copy 'n paste as a new layer above the black paper but below the gold frame.
Move the clock face to the right upper corner of the frame.
Change the blend mode of the clock face to Soft Light on your layer palette
3. Open tube of choice, copy 'n paste as uppermost layer.
Optional: use Lokas Software ~ 3 D shadow to drop shadow your tube using settings below: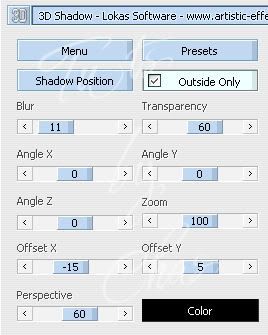 4. Remember to save your work as you go.
5. Now to personalize your tag, add any flowers, glitter, elements & ribbons of choice. Drop shadow each element added except the gold ribbon.
Add these below your tube layer except for the umbrella.
Add the large gold ball if desired, the butterfly overlay resized to 600 px in height,
the floral arrangement resized to 600 px in width, place to top left behind paper layer. Duplicate and move copy to lower right.
add gold ribbon, resized to 600 px wide, add golden heart, resized 'n rotate slightly using pick tool (deformation tool),
add gold glitter, resized to 600 px wide, add black raffia, resized 30%,
add black umbrella, resized 30%, mirror and add light drop shadow of 1/1/50/4 blur, color #404040.
Use umbrella to hide any naughty bits on your tube.
Add white floral spray, resized to 500 px wide, then rotate 90 degrees to left when placing on tag
Add yellow flower cluster, resized 30%. Place near bottom of frame. Duplicate and mirror.
6. Close off background layer, merge visible and crop MERGED opague.
Re-open your background if saving as a .jpeg.
Resize tag now if desired.
7. Add your copyright, URL, watermark and name.
Merge all flatten and save as a .jpeg or merge visible and save as a .png
I hope you enjoy your new creation!