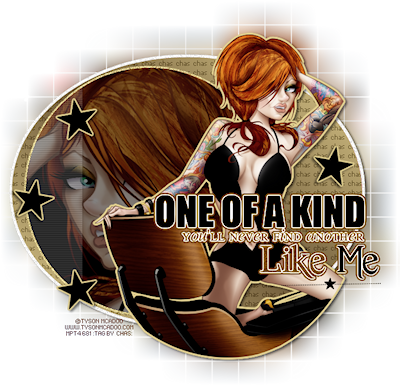 This tutorial is written for those with a working knowledge of PSP.
Supplies Needed:
I am using Corel PSP X2 version but any version will do.
Tubes of choice, preferably one with a close-up image. I am using the brilliant artwork of Tyson McAdoo. You can purchase a license to use his work at
MPT
.
Template 281 by Missy of Divine Intentionz found HERE Thank you, Missy! ♥ Please leave her some luv!
Plugins: EyeCandy 4000 ~ Gradient Glow
Unplugged Tools ~ Interlace
Mura's Meister ~ Copies
Toadies ~ Ommadawn
Font for the name is FFFUrban found HERE
* * * * *
1. Open template 281. Press Shift + D. Close original template.
Delete copyright layer on layer palette.
Image ~ canvas size ~ 650 x 625 ~ centered. Open white background layer and flood fill completely white.
2. On glittered oval layer, add dropshadow of 1/1/49/4 blur, color black
(we will be using this D/S setting throughout the tutorial)
3. Select pink oval layer, select ALL, float, defloat,
modify selections ~ smooth ~ smoothing amt =10, corner scale =10, both anti-alias & preserve corners CHECKED
Add a new raster layer.
On material palette, set foreground to #e1cf8f, background #705b3a. Set foreground to gradient ~ angle 45, repeat 1, invert UNchecked.
Flood fill the selection with this gradient.
Selections ~ none.
4. Choose black circle layer, select ALL, float, defloat, open close-up tube of choice.
If using same tube, mirror and resize 90% smart-size.
C/P as a new layer. Center as desired. Selections ~ invert ~ delete.
Selections ~ none.
Drop opacity of this tube layer to approx. 50%.
Choose the black circle layer again, using eyecandy 4000, gradient glow
glow width 3.25, soft corners 25, overall opacity 100%
with color setting #e1cf8f as below:
Using magic wand, mode ~ add(shift), tolerance 10, feather 0,
click on this gradient glow you just added,
adjust ~ add/remove noise ~ add noise 40% uniform, monochrome checked.
Selections ~ none. D/S.
5. On white shape layer, use plugin Unplugged Tools ~ Interlace ~ setting 2,127,1,0
D/S.
6. Open main tube of choice, copy n paste as a new layer.
Add same gradient glow as earlier to this tube and D/S.
7. On wordart layer, adjust hue/saturation to 26/81.
Duplicate this word art layer and change the blend mode of the copy layer to MULTIPLY
Lock these two layers together by pressing on the 'lock' on the layer palette for both wordart layers to '1'
Move the word layer to desired position on tag.
No need to D/S the wordart layers.
8. Choose the Star 1 layer, using brightness/contrast, change the brightness to -255, contrast 0.
Add the same gradient glow as above to this star layer. D/S
Repeat this step with the Star 2 layer.
Duplicate these star layers as many times as desired (see reference tag).
9. If you wish to add your name to large oval layer as seen on reference tag,
use font FFFUrban sz 10, anti-alias unchecked.
Type your name in black or color of choice for background, as the top most layer
Center name to tag by using object ~ align ~ center in canvas.
Convert to raster layer.
Using Mura's Meister ~ copies ~ tiling ~ standard setting but be sure tile gap is set to 1.
Apply.
Move this layer on layer palette, above your gradient layer.
Set blend mode to Luminance (L) and lower opacity to 53.
Choose the pink oval layer again, Select ALL, float, defloat, selections ~ invert
back to your name text layer, press delete. Selections ~ none.
10. Close off white background layer, copy MERGED all layers
Open the white background layer, and paste the Merged layers as a new layer above your white background.
Move this merged layer to center it beneath all other tube layers, then adjust blur ~ gaussian blur ~ radius 15
Using Toadies ~ Ommadawn ~ standard setting or 17,16,234,17
Apply.
This filter leaves black crosshairs on your image. If you wish to make those crosshairs
transparent as I did, magnify your working image by scrolling the center wheel on your mouse
so image is magnified 150% or greater.
Using the magic wand, click anywhere on a black crosshair on this ommadown layer.
When correctly done, all the crosshairs will be selected.
Press delete on your keyboard. Selections ~ none.
Voila!
11. Add your copyright, URL and watermark.
Merge all flatten save as a .JPEG or close white bg, merge visible and save as a .PNG
Hope you enjoy your new creation!