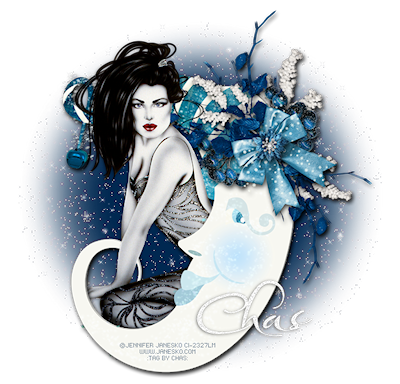 This tutorial is written for those with a working knowledge of PSP.
Supplies Needed:
I am using Corel PSP X2 version but any version will do.
Tube of choice. I am using the beautiful artwork of Jennifer Janesko. You can purchase a license to use her art at
CILM
.
Freebie Winter Wonderland Cluster frame by RaspberryRoad Designs found HERE
Optional Plugin: Xenoflex 2 ~ Constellation
Font for name is Ability Black, which is a pay font.
Another quickie tut for you.
* * * * *
1. Open up a new transparent image 625 x 600 pixels and flood fill white.
Open the cluster frame, using crop tool, find on top tool bar ~ Snap crop rectangle to ~ choose Merged Opaque.
Click on center of your tag to crop.
Resize frame 20%. C/P as a new layer.
2. Add a new raster layer above your white background, flood fill with color #002851.
Open mask20/20, minimize.
Layers ~ New Mask Layer ~ from Image ~ find mask 'n apply.
Before merging, on your layer palette, duplicate the mask (layer highlighted).
Now merge group. Duplicate this masked layer. Merge down.
Resize 90%.
Using Xenoflex2 ~ Constellation ~ setting as below:
If you don't have this plugin, an alternative is the VM Natural ~ Sparkle plugin.
2. Open tube of choice, C/P above masked layer.
Using eraser or selection tool, erase any part of tube that extend beyond bottom of frame.
Duplicate tube. Move duplicate layer above frame.
Again, erase any part of top tube layer to make it appear she is leaning through frame.
D/S original tube layer.
Note: When downsizing elements or in this case the cluster frame,
it is wise to sharpen it once. However, in doing so, the moon will appeared oversharpened
when the decorative portion will look fine. To eliminate this,
simply use your selection tool, using either freehand or point-to-point, feather set to 5, smoothing 0,
draw a selection around the decorative element portion of the frame as below:
Adjust ~ Sharpness ~ Unsharp mask ~ settings: radius 1, strength 30, clipping 3
luminance only checked. Apply. Selections ~ none.
Using the unsharp mask gives your greater control over the degree of sharpness applied.
3. Add your copyright, URL, watermark and name.
Close white background, merge visible and save as a PNG.
Hope you enjoy your wintery moon!