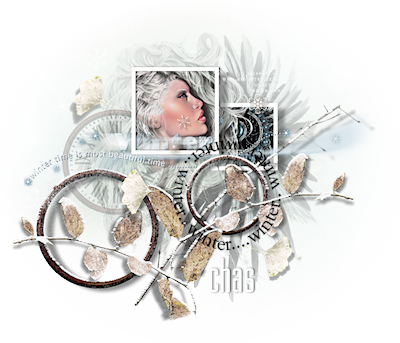 This tutorial is written for those with a working knowledge of PSP.

Supplies Needed:
I am using Corel PSP X2 version but any version will do.
Tube of choice. I am using the wonderul artwork of Carrie Hall. You may obtain a license to use her work at
Up Your Art
FTU scrap kit called Frosted Whisper found HERE
Note: Save this mask in your PSP Mask Folder and direct this folder to your PSP using File Locations.
Plugin: EyeCandy 5 ~ Nature ~ Snow Drift
Font used for name is Mekanik LET found HERE
* * * * *
1. Open up a new transparent image 700 x 600 pixels and flood fill white. You can resize later.
Open paper from kit, resize to 700 px wide, C/P as a new layer. Using crop tool, click on 'Layer Opaque' on top toolbar
and click center to apply. This eliminates paper beyond working image.
Layers ~ Load Mask from Disc ~ find the 20/20 mask in your drop down menu.
Choose fit to canvas, source luminance and hide all mask. Apply.
Merge group. Repeat this mask application.
2. Open element 39 (brown frame), resize 28%. C/P as a new layer. Duplicate and resize duplicate approx 70%.
Offset these two frames to your liking.
3. Open wordart element 34, resize to 625 px wide. C/P as a new layer. Do NOT move it from this position.
Open wordart element 33, resize it to 625 px wide. C/P as a new layer.
These two wordart layers should be superimposed perfectly.
Lock these two layers on your layer palette by choosing '1' on layer link toggle.
Doing so, you're able to move the wordart to any position on your tag.
4. Open tube of choice. C/P as a new layer. Duplicate your tube 'n close this duplicate layer for now.
On original tube layer, Layers ~ Load Mask from disc ~ find 20/20 mask.
Choose Fit to Layer, source luminance 'n hide all mask. Apply.
Merge group. Drop opacity of this tube layer to 52. This nicely blends the tube with your background.
5. Unhide the duplicate copy of your tube and on this layer, using your selection tool,
choose 'square' in drop down menu, feather 0.
Draw a selection around the face of your tube, approx. 146 x 146.
On your layer palette, right click 'n promote this selection to layer.
Selections ~ none.
Back to the duplicate tube copy layer, make another square selection approx 113 x 113 px.
on your tube 'n promote this selection to layer again.
Selections none. Move this layer below the first promoted selection only if these overlap (like my selections did.)
Give both promoted selections a nice blurry D/S, setting 6/8/50/10 blur, color black
DELETE the duplicate copy layer of your tube.
6. To make a white frame around these promoted selections, draw another
square selection around the promoted selections. Add a new raster layer 'n flood fill white.
Selections ~ modify ~ contract by 7 px ~ press delete. Selections ~ none.
Repeat this for the smaller promoted selection. If desired, D/S these white frames with a light setting or 0/1/50/4 blur, black
7. Open clock element 37, resize 25%, C/P as a new layer and drop opacity to 20. Move where desired
and placing it below the promote selections made above.
Add element 25 ~ 20%, element 29 ~ 20%,
open element 36, draw a selection around the second WinterTime wordart from the left to include flower,
C/P as a new layer and resize it 50%. Place wordart around the smaller brown frame.
From element 36, draw selection around individual flowers and C/P as new layers,
placing them in various areas of your tag. Resize to your liking.
8. Using EyeCandy 5 ~ Nature ~ Snow drift ~ find setting for SMALL ~ FIRST FLAKES under settings tab 'n apply.
Add this snow to any elements you desire ie. leaves, twig 'n brown frames.
Resize tag at this point if desired using 90% smartsize.
9. Add copyright, URL, watermark and name.
Merge all flatten and save as a JPEG or close white bg, merge visible and save as a PNG.
Hope you enjoy your new blended tag!