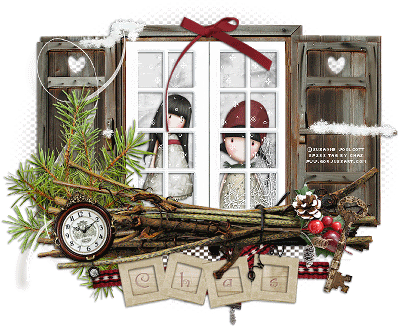 This tutorial is written for those with a working knowledge of PSP.
Supplies Needed:
I am using Corel PSP X2 version but any version will do.
Tubes of choice. I am using the gorjuss artwork of Suzanne Woolcott. You can purchase a license to use her art HERE
Freebie Add-On called Old Cottage by Katty found HERE
Snowflake Animation by QueenBrat found in her supplies of her tut HERE called Baby, It's Cold Outside
Mask of choice
Animation shop
Font for name is Santa's Big Secret BB found HERE
Thank you QueenBrat for permission to use your animation in my tutorial. I simply adore your creations! ♥
Please visit her blog HERE
This tag is inspired by the scrap kit. Thank you Katty for your ideas! ♥
* * * * *
1. Open a new transparent image 700 x 575 px, flood fill white. Can resize later.
Add a new raster layer ~ selections ~ select All
Open brown paper5, copy 'n paste INTO the selection. Sharpen. Selections ~ none.
Apply mask of choice.
2. Open element9 (window frame), resize to 650 px wide. C/P as a new layer.
Move slightly upward & to the right.
Using selection tool ~ rectangle, draw a selection beyond the inner panes of the window.
Open paper3, resize to 600 px wide, C/P as a new layer below the window frame.
Selections ~ invert ~ delete ~ none.
Open main tubes of choice, resize one slightly larger than other to appear one is closer to window.
D/S each 1/-1/69/4 blur color black
D/S window frame also.
3. Open element6 (twigs), resize 600 px wide. C/P on top of window frame.
Add clock ~ 20%, key ~ 20%, red ribbon (element4) ~ 40%, green spruce ~ 20%
Duplicate spruce twig and rotate left 90 degrees.
White Ribbon ~ 30%, White bow (element11) ~ 20%
Note: Colorize bow before adding to your tag by
Selections ~ select all ~ float ~ defloat ~ add a new raster layer.
Flood fill selection with color #8f0412. Selections ~ none.
Change blend mode of this color layer to 'multiply' and drop opacity to 85%.
Copy MERGED, paste as a new layer above window frame.
D/S all elements added except element3 (white ribbon).
4. Open element14, (woodhearts), resize 10%.
Using rectangle selection tool, draw around one block.
Promote selection to layer by right clicking on your layer palette.
Selections ~ none.
On promoted selection layer, select ALL ~ float ~ defloat ~ modify selection ~ contract by 16 px. ~ delete. Selections ~ none.
C/P as a new layer on your working tag. Duplicate for as many letters as there are in your name. Arrange.
Use pick tool (deformation tool) to rotate some of these blocks.
Merge down these blocks to each other to create all blocks on one layer.
Using magic wand, feather 0, click inside center of each of these blocks ~ modify selection ~ expand by 5 pixels.
Open paper2, resized to 500 px, C/P as a new layer below the blocks ~ invert selection ~ delete ~ selections ~ none.
Colorize this paper layer Adjust Hue/Saturation 28/76.
D/S the block frame. Merge down the block frame to the paper layer.
Move this layer below the twigs (element 6) on your layer palette
to make it appear to be hanging from twigs.
5. If you wish to resize your tag do so now using 90% smartsize.
Add copyright, URL, watermark.
Add your initials to center of each block.
For each letter, use Effects ~ 3D ~ cutout ~ V & H = 2, opacity 55, blur 6, shadow color #591016. Fill interior unchecked.
6. To animate:
Close off white background layer on working image.
Find window frame layer on your layer palette, draw one rectangular selection beyond all the window panes.
Selections ~ Invert
Open snowflake animation by QueenBrat (in psp format)
Close off Frame 8. We will start with Frame 1.
Unhide Frame 1 ~ Copy 'n Paste as a new layer
immediately below the window frame but above the Woolcott tubes. Delete on your keyboard ~ do NOT deselect.
Rename this layer Snow 1.
Back to QueenBrat Snowflakes, copy frame 2 'n paste above Snow 1 layer ~ delete.
Rename this layer Snow 2.
Copy in turn each frame from the snowflake animation 'n paste in sequence, remembering to delete first
and renaming each layer as you go ie.
Snow 3, Snow 4, Snow 5, etc.
7. When done C/P all 8 layers, close off all your snow layers except Snow 1. Copy MERGED
Open Animation Shop ~ paste as a new animation.
Back to PSP, close Snow 1, unhide Snow 2 ~ copy MERGED
paste in A/S after current frame.
Continue this sequence until you have 8 frames in A/S.
When done, view animation for errors.
Change frame properties to 20.
To crop in A/S, find the crop tool, select it ~ find Options on toolbar ~ select it ~ choose surround the opaque area. OK.
On your animation, click in center to crop. Always crop before adding white background.
Change animation properties to opaque ~ white.
Optimize 'n save as a GIF.
Hope you enjoy your cottage creation.