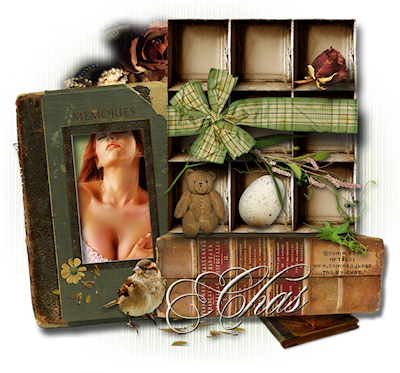 This tutorial is written for those with a working knowledge of PSP.
Supplies Needed:
I am using Corel PSP X2 version but any version will do.
Tube of choice.
I am using the sexy artwork of Sonia Roji. You can purchase a license to use her work at
MPT
.
Freebie Memoir/Keepsake Cluster Frame by Raspberry Roads found HERE
Font used is Portfolio Regular, a payfont
* * * * *
1. Open a new transparent image, 625 x 575 px. Flood fill white.
Open the cluster frame, crop MERGED opaque, resize 600 px wide
C/P as a new layer.
Draw a point-to-point selection beyond the book window. Add a new raster layer,
move it below the frame, and flood fill with #93a364. Keep selected.
C/P tube of choice. Invert selection 'n delete. Deselect.
Duplicate tube ~ Effects ~ Blur ~ Gaussian Blur ~ radius 3.
Change blend mode to soft light.
2. Add a new raster layer above the white bg. Flood fill with #93a364.
Open EBDMask52, minimize. Apply mask. Merge group.
Duplicate mask ~ merge down.
Open mask20/20, minimize. Apply mask ~ merge group.
3. Add antique roses, resized 50%. Add antique books, D/S 1/-1/45/4 blur, color black.
C/P wordart supplied adding it above the masked layer.
4. Add copyright, watermark & name.
Delete white bg, merge visible and save as a PNG
Hope you enjoy your new creation!