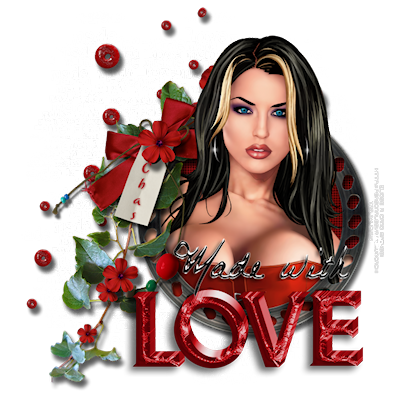 This tutorial is written for those with a working knowledge of PSP.
Supplies Needed:
I am using Corel PSP X2 version but any version will do.
Tube of choice. I am using the beautiful artwork of Jose A Cano. You can purchase a license to use his work at
MPT
.
Freebie Urbanites Cluster Frame by Raspberry Roads found HERE
Masked wordart by Nae found in her tut of same name HERE (second masked wordart) from the kit by Jaelop called Made With Love
Thank you, Nae for permission to share! ♥
Wordart 3D by Jaelop found HERE Thank you, Jaelop! ♥
Optional Plugin: Cybia ~ Screenworks
Font of choice.
* * * * *
1. Open a new transparent image, 625 x 625 px. Flood fill white.
Open the cluster frame ~ crop Merged Opaque ~ then resize 600 px high. C/P as a new layer.
Add a new raster layer, using selection tool, draw a point-to-point selection just inside the outer edge of the frame.
Flood fill with #a91b23. Deselect. Use plugin Cybia ~ Screenworks ~ Hollow Dot setting.
Move this layer below frame.
2. Open masked wordart by Nae, colorize white by using Adjust Brightness/Contrast 255/0 if using a black bg or 'as is' if using a white bg.
C/P as a new layer above your background.
Drop opacity to 66.
3. Open tube of choice, C/P as a new layer above the hollow dot layer.
Using eraser tool, carefully erase the bottom portion of tube that extends beyond frame.
Duplicate tube ~ move this tube above frame 'n erase any parts of the tube that you want behind the frame.
D/S the original tube layer 1/-1/59/blur 7 color black
4. Open Jaelop wordart ~ resize 450 px wide.
Using selection tool again, draw a selection around the black wording 'Made With Love' ~ right click on layer within layer palette 'n promote layer to a selection.
Do not deselect yet.
Back to original wordart layer, press delete. Deselect now. The wordart is now in two seperate layers.
Select the "LOVE" wordart layer ~ colorize ~ Hue 254, Saturation 185 and brightness -20/ contrast 0.
C/P the LOVE wordart on your working image.
C/P the Made With Love wordart and place as desired.
5. Add copyright, URL, watermark and name
Delete white background, merge visible and save as a PNG.
Hope you enjoy your creation! :+)