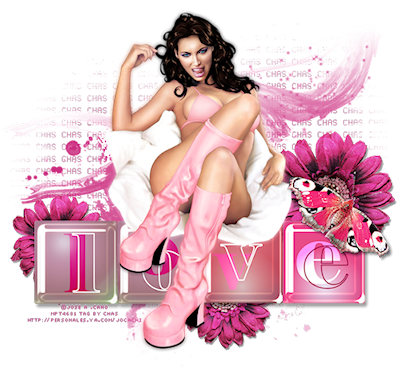 This tutorial is written for those with a working knowledge of PSP.
Supplies Needed:
I am using Corel PSP X2 version but any version will do.
Tube of choice. I am using the sexy artwork of Jose A. Cano. You can purchase a license to use his work at
MPT
.
Freebie scrapkit called Colors of Love by Shabby Pickle Designs dated January 22, 2010. Thank you, Erika! ♥
WSL Mask 10 by Chelle found HERE or any heart mask of choice
Grunge brushes of choice. I don't know where I found the brushes I used
but HERE is a link with some Grunge PSP brushes that are very similar
Plugin: Mura's Meister ~ Copies
Font for name is FFF Urban found HERE
This will be another quickie tut for you!
* * * * *
1. Open a new transparent image, 625 x 575 px. Flood fill white.
Open LOVE wordart, resize 600 px wide. C/P.
2. Open tube of choice, C/P on top of wordart. Arrange.
When happy, duplicate tube layer. On original layer, adjust ~ Blur ~ Gaussian blur ~ radius 3.
3. Open flower, resize 15%. C/P. Duplicate ~ resize 75%. Duplicate again. Arrange behind wordart layer.
4. Open swirled brush element from kit, resize 625 px wide. C/P as a new layer above white bg.
Add a new raster layer and apply grunge brushes of choice
in colors #e79bc3 & # d34e92.
5. Open butterfly, resize 10%, C/P & rotate with pick tool as desired. Sharpen once.
6. Select uppermost layer, using FFF urban font, sz 10, foreground nil, fill color # d34e92
type your name ~ object ~ align ~ center of canvas ~ convert to raster layer.
Using Plugin Mura's Meister ~ copies ~ tiling setting: standard setting except change Tile Gap to 2. Apply.
Open heart mask of choice or WSL_mask 10, minimize.
On name layer ~ Layers ~ New Mask Layer ~ from Image ~ find WSL_mask10 ~ apply.
Move this masked name layer on your layer palette above the white bg.
If you wish to resize your tag, do so now using 90% smartsize.
7. Add copyright, URL, and watermark.
Close white background, merge visible and save as a PNG.
Hope you enjoy your naughty tag!