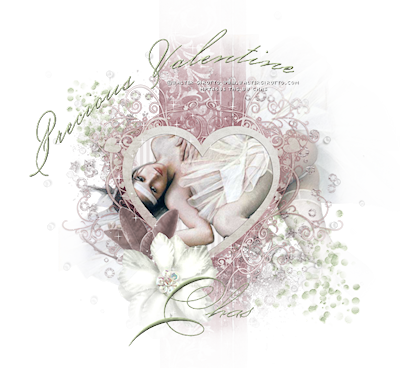 This tutorial is written for those with a working knowledge of PSP.
Supplies Needed:
Corel PSP X2 or any version thereof
Tube of choice. I am using the artwork of Walter Girotto. You can purchase a license to use his work at
MPT
.
Freebie Valentine Romantic kit by Ivy found HERE Thank you Ivy! ♥
Freebie doodle from Green & Purple minkit by Malina Design found HERE Thank you Malina! ♥
Mask 20/20 found HERE. Wordart by me HERE

Optional Plugin: VM Natural ~ Sparkle

Font for the name is P22 Zaner Two, a pay font.

* * * * *
1. Open the extras 1 from Ivy's Romantic Valentine, resize 900 px wide.
Draw a freehand selection around the double heart/bow accent 'n delete it. Copy the vertical heart.

Open up a new transparent image 625 x 575 px, flood fill white. Paste ~ center.
Add a new raster layer ~ selections ~ select All.
Back to vertical heart layer, Image ~ crop to selection. This deletes any excess beyond the working image.
Open the 20/20 mask, minimize. Image ~ New Mask Layer ~ from Image ~ find the mask 'n apply.
BEFORE merging group, duplicate the mask layer on your layer palette then merge group.

2. Using magic wand, click in center of heart frame, modify selections ~ expand by 10.
Open paper2, resize 600 px. C/P as a new layer ~ selections invert ~ delete. Selections ~ none.
Move paper layer below vertical heart frame. Sharpen paper once.

3. Open tube of choice. C/P as a new layer above the paper layer.
Apply the 20/20 mask to your tube layer.
Using eraser tool, setting FUZZ soft ~ sz 150, erase more of the tube around the outer edges if needed.

4. Back to vertical heart layer, D/S using 1/-1/45/5 blur, color #404040.
Optional, apply plugin VM Natural ~ Sparkle ~ setting 12, 255, 255, 255, 255, 142.

5. Open the green doodle from Malina's kit, add a new raster layer, move beneath the doodle layer.
Flood fill white to better visualize the doodle. Back to doodle layer, erase some of the round circles that are cut-off in half (near outer edges).
Close white bg, resize doodle layer 25% and C/P back on working image,
above the white bg layer. Move to lower right corner. Drop opacity of doodle to approx. 75% on layer palette.
Duplicate ~ flip ~ mirror and resize duplicate 80%.


6. Add wordart supplied, copyright, URL, watermark & name.
For name, use fill color #bac7a0 with following inner bevel applied:

7. Close white bg, merge visible, save as a PNG.
Voila!
Hope you enjoy your Valentine creation!