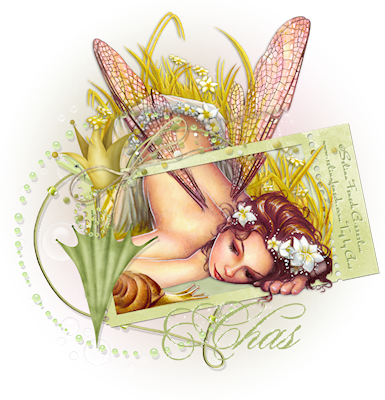 This tutorial is written for those with a working knowledge of PSP.
Supplies Needed:
Corel PSP X2 or any version thereof.
Tube of choice. I am using the beautiful artwork of Selina Fenech. You can purchase a license to use her art at
CILM
.
FTU cluster frame by Irene Alexeeva found HERE
Round mask of choice or mask20/20 found HERE

Plugins: Xenoflex2 ~ Constellation
Filters Unlimited2 ~ Render

Font for name is Portfolio Regular, a payfont

* * * * *
1. Open a new transparent image 625 x 625 pixels and flood fill white.
Open tube of choice, choose two colors to make a gradient.
A soft green for foreground #C6d097 and a soft pink for bg #fae4e0.
Select gradient in foreground ~ linear, angle 45, repeats 1.
Flood fill layer.
Open mask 'n minimize. Layers ~ New Mask Layer ~ from image ~ find mask 20/20 and apply.
On layer palette, duplicate mask, then merge group.
Apply Xenoflex2 ~ Constellation with following setting:

A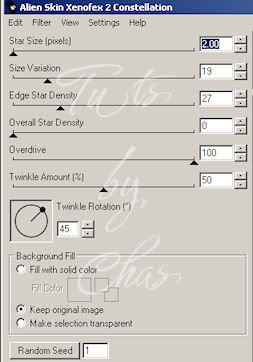 Duplicate this layer if desired.

2. Open cluster frame, resize 625 px wide, C/P.
Erase any bubbles that are too close to the edge of working image.
Using selection tool, freehand ~ point-to-point, draw a selection beyond the inside of the frame.
Add a new raster layer,
choose two colors to make a new gradient. I used a soft green color and white.
Flood fill this layer with same gradient setting as above.
Move this layer below frame.
Using Filters Unlimited2 ~ Render ~ choose fore/background color clouds
setting: cloud type 162, gamma 102.
Selections ~ none.
D/S the frame with a light setting 1/-1/45/5 blur, color #404040

3. Open tube of choice, C/P above the gradient layer.
If you wish part of the tube to extend beyond the frame, duplicate tube layer,
move this copy above the frame and erase any parts that you don't want extending outside the frame.
D/S the original tube layer.
4. Add name in color of choice, apply same constellation effect to your name, then D/S.
5. Add your copyright, URL, and watermark.
Close white background, merge visible and save as a PNG

I hope you enjoy your new creation!