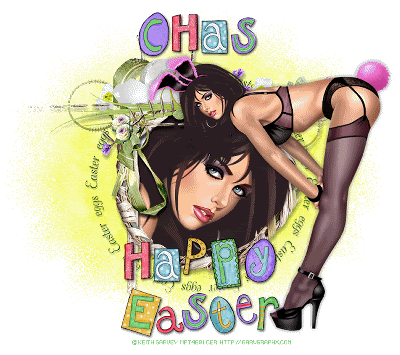 Well I'm back! Sorry for the long hiatus. I moved back
home to Canada and took some time to recover
from an illness as well. I'm happy to return
with a New Easter tut and with one of Garv's new Easter tubes.
Hope you try the new animated tut.
Thank you everyone for your kinds words while I was gone.
xoxo,
This tutorial is written for those with a working knowledge of PSP.
Supplies Needed:
I am using Corel PSP X2 version but any version will do.
Tubes of choice, preferably one with a face tube.
I am using the sexy artwork of Keith Garvey. You can purchase a license to use his work at
MPT
.
Freebie Frame called Easter Eggs found HERE * scroll down & take note of password*
Round mask of choice or the one I used HERE
Animation Shop
Easter Wordart by Elena found HERE
* * * * *
1. Open the eastereggs frame03a. Using the crop tool, crop to an approx.
rectangle size of 700 x 600 px wide as seen below:
2. Open round mask of choice or one provided, minimize. Layers ~ new mask layer ~ from Image find mask 'n apply.
Merge group. Resize this working image to desired size or approx 650 x 600 px.
Duplicate this layer 'n merge down to each other.
3. Draw a circular selection beyond the inside of this frame, modify expand by 4
copy face tube of choice, paste as a new layer ~ invert 'n delete. Select none.
Move the face tube below the masked frame.
4. Copy main tube of choice 'n paste as a new layer. D/S using 0/0/50/10 blur, color black
Add Happy Easter wordart, resized 45%. C/P as desired.
5. Add copyright, watermark and name.
If you added a white background, delete it, then
Edit ~ copy MERGED
and paste in Animation Shop as a new animation.
Back to PSP
6. To animate the eyes, duplicate the face tube and working on the duplicate copy, click on it.
Using the center wheel on your mouse, enlarge this working image to approx 300%.
Using the selection tool, point-to-point, feather 0, smoothing 0, Add mode,
draw a selection around around the white of the eye including some of the surrounding black
as seen below:
On your layer palette, promote this selection to a layer
then selecting the duplicate tube layer again, press delete.
Rename the promoted selection layer = left eyelid.
Do the exact same with the right eyelid.
(Remember to delete the right eyelid selection on the duplicate tube layer)
7.Merge the left eyelid layer with the right eyelid layer.
Selections ~ select ALL ~ Float ~ defloat ~ expand by 1.
Add a new raster layer and move this layer below the duplicate face tube layer.
Close off the two-merged eye lid layers.
Using two colors from the eye, make a 45 angle linear gradient (repeats 0) with the two colors from the eye area
and flood fill the selections. Select none. I used black foreground and #472733 for fill.
Adjust blur ~ gaussian blur ~ radius 1.
8. Return the working image back to 100% using the center wheel of your mouse.
If happy with the 'closed' eyelid appearance
Copy MERGED 'n paste in A/S after the current frame.
9. Still in A/S, copy the first frame and paste it after frame 2 for a total of 3 frames.
Change the frame property of Frame 1 and Frame 3 to 120.
Frame 2 will remain at the default setting of 10.
Crop ~ Options ~ surround the opaque area ~ Ok.
Change animation properties to color of choice. ie. white or black
View animation.
If happy, optimize octree and save as a .GIF
Hope you enjoy your new Easter tag.