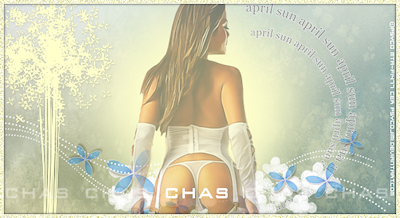 This tutorial is written for those with a working knowledge of PSP.
Supplies Needed:
I am using Corel PSP X2 version but any version will do.
Tube of choice. I am using the beautiful artwork of Psyco Jimi found HERE You do need a license to use his work.
Freebie April SunChallenge minikit by Kim La Designs found HERE for a limited time. Thank you! ♥
Font for signature tag is Bank Gothic Md BT
Font for avatar is Ability Black, a payfont.
Optional: Filter Mura's Meister ~ Copies
This is a forum signature/avatar tutorial.
Feel free to use any scrap kit, tube of choice.
* * * * *
1. Open a new transparent image 530 x 300 px wide or any size you prefer.
The avatar size is approx 125 x 125.
We will be making the signature tag. You can use the same idea for your avatar tag.
On your signature image, selections ~ select all.
Open aprilsun paper and using rectangular selection, draw a rectangle the approx shape of your signature image, as below: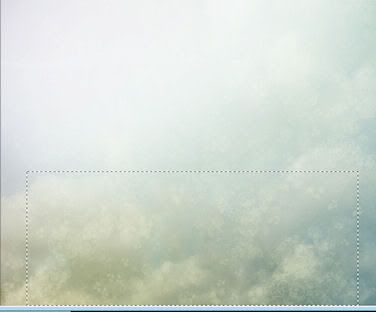 C/P 'into the selection'. Selections ~ none. Sharpen.
2. Open the sun, resize 20%. C/P.
Open the wordart overlay. Resize 12%. C/P, moving slightly to right.
Open tree, resize 15%, C/P, moving to left.
Open flowers 5, resize 12%, C/P, moving to left.
Open flower sh, resize 5%, C/P as many as desired.
3. Open tube of choice, C/P. Drop opacity of tube layer to approx 47%.
Select wordart overlay layer 'n erase part of this layer that extends to the left of your tube so it appears to overlap with flowers 5 layer.
Add any other elements of choice.
4. Merge all layers visible. Add a new raster layer and flood fill with color # ffffcc.
Selections ~ select All ~ contract 5 px. Delete. Selections ~ none.
Add noise to this frame using monochrome uniform ~ 35. Sharpen.
Add a D/S of 1/1/59/4 blur color # 404040.
You may repeat this D/S with -1/-1/59/4 blur color # 404040.
5.. If you wish to add name as above. Use Bank Gothic Md BT, sz 40, alias ~ sharp. Foreground nil, background white.
Type name ~ Object ~ horizontal center in canvas.
Duplicate. Using Mura's Meister ~ Copies ~ select preset 'Line' ~ standard settings except change number to 5. Apply.
Drop opacity of this layer to approx 47%.
6. Add copyright & watermark. Merge visible and save as a PNG.
Apply same principle to your avatar.
Hope you enjoy your signature/avatar set.