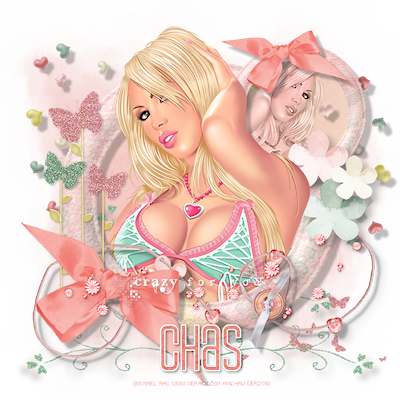 This tutorial is written for those with a working knowledge of PSP.
Supplies Needed:
I am using Corel PSP X2 version but any version will do.
Two tubes of choice by same artist. I am using the beautiful artwork of Ismael Rac found HERE.
FTU Mama Kit by LiseteScrap found HERE for a limited time. Thank you! ♥
Mask 210 by Insatiable Dreams found HERE Thank you! ♥ D/L Mask 7 set.
Wordart found HERE by Jo-Hana. Thank you! ♥
Font for name is Weltron found HERE
Optional: Filters Unlimited 2.0 ~ Paper Textures
* * * * *
1. Open a new transparent image 700 x 700 px. Flood fill white. We can resize later.
Resize circle frame (element 6) 510 px. C/P. Duplicate. Resize duplicate 50%. Move to upper right corner.
Select large circle frame. With magic wand, click inside circle frame ~ modify selection ~ expand by 7.
Open paper 4, resized to 600 px ~ C/P as a new layer. Selections ~ invert ~ delete. Deselect.
Move paper layer below frame.
Do the same for the smaller circle frame.
2. Add a new raster layer above the white background. Selections ~ select All.
Open paper 1, copy 'n paste INTO the selection. Deselect.
Open mask 210, minimize. Layers ~ from Image ~ find mask in drop down menu ~ apply. Merge group.
3. Open main tube of choice. C/P above the paper layer of large circle. Align. Erase any part of tube extending beyond frame on bottom.
Duplicate tube. Move duplicate copy above the large circle frame. Erase the bottom edge of the tube that extends beyond the bottom of the frame.
Select paper layer of small circle frame. Select ~ All ~ float ~ defloat ~ invert. Open second tube of choice ~ C/P as a new layer ~ align ~ delete. Deselect.
Change the blend mode to Luminance L.
4. Now to personalize your tag add elements of choice on different layers:
Wordart by Jo-Hana ~ 540 px wide ~ colorize hue 255, saturation 255
Select black wording with selection tool ~ point-to-point ~ then change color to white using brightness 255/contrast 0. Deselect.
Element 16 ~ 20%
Element 13 ~ 7%
Element 14 ~ 9%
Element 15~ 10%
Element 21 ~ 20%
Element 23 ~ 11%
Element 24 ~ 20%
Element 26 ~ 20%
Element 32 ~ 20%
Element 34 ~ 16%
Rotate & sharpen any elements of choice.
5. To add name, use Weltron font sz 90 Foreground nil, background fill # f29289
Center horizontally to canvas. Convert to raster layer.
Using Filters Unlimited 2.0 ~ paper textures ~ select Japanese Paper ~ apply.
Select all ~ float ~ defloat ~ expand by 2 px ~ add a new raster layer ~ flood fill all the selections white. Deselect.
Move this layer below the color-fill layer.
D/S 2/2/25/5 blur color black & repeat.
6. Add a large, soft D/S to your elements 'n frame using 10/10/25/7 blur, color black.
If you wish to resize, do so now using smartsize 85 - 90%.
Add copyright & watermark.
7. Close white background layer. Merge visible and save as a PNG.
Hope you enjoy your new creation!