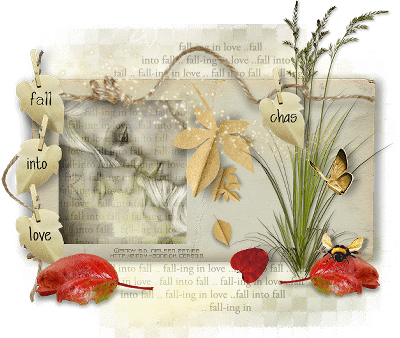 This tutorial is written for those with a working knowledge of PSP.
Supplies Needed:
Corel PSP X2 or any version thereof.
Image or tube of choice. I am using the amazing artwork of Zindy S. D. Nielsen. You can obtain a license to use her work
HERE
FTU sampler by Natalie called Apple Time found HERE
and a FTU Summer's End Add on by Raspberry Roads found HERE
Thank you both! ♥
Optional Plugin: Greg's Factory Outlet Vol II ~ PoolShadow
Animation Shop

Font: Scrap Mommy
* * * * *
1. Open the frame from the sampler, resize 700 px wide. Resize canvas 700 x 700.
Open paper 7, resize 600 px wide. C/P as a new layer. Move below frame layer.
Save the mask in your PSP mask folder.
Layers ~ load mask ~ from disc ~ luminance checked ~ fit to canvas ~ hide all mask. Apply.
Merge group.
Using pick tool/deformation tool, resize the mask vertically.
Open the apple 3 wordart. Resize to 700 px wide.
Erase the very top 3 lines of the wordart. C/P
the wordart on top of the masked layer. Change blend mode to soft light. Opacity 52.


2. Draw a rectangular selection beyond the opening of the frame.
Open tube/image of choice, C/P as a new layer below the frame. Invert selection. Delete.
Change the blend mode to overlay.

3. Add elements of choice from Summers End Addon and Apple Time sampler.
greenery 25%, butterfly 10% colorized hue 30 saturation 139, missy sparkle trail1 80%,
element23 10%, bee 15%, string 25%, leaf 20%.
D/S 2/10/35/17 blur color black ~ all elements.

Using black fill, type name on leaf using favorite scrap font.

4. Add your copyright & watermark.
Merge all visible save as a PNG
or
if you wish to animate, undo the 'merge visible step'

5. On the masked layer, apply Greg's Factory Poolshadow
with setting 50,50, 50, 50, 50, 50, 30, 128.
Copy Merged ~ Paste in A/S as a new animation.

Back to PSP, undo poolshadow effect. Redo poolshadow changing the Intensity to 15.
Copy Merged ~ paste after the current frame in A/S

Back to PSP, undo poolshadow affect, change Intensity to 45. Apply
Copy Merged ~ paste in A/s after current frame.

Back to PSP, undo poolshadow affect, change intensity to 60. Apply.
Copy Merged ~ Paste in A/S after current frame.

Still in A/S, select All ~ change frame properties to 25.
Change animation properties to opaque white or color of choice.

Optimize. View animation. Save as a Gif.