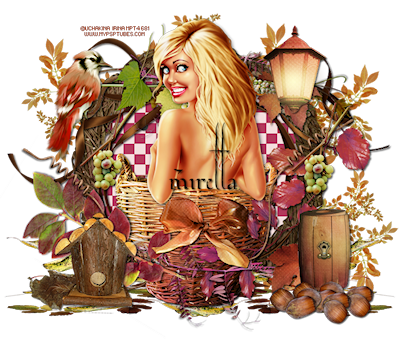 This tutorial is written for those with a working knowledge of PSP.
Supplies Needed:
I am using Corel PSP X2 version but any version will do.
Tube of choice.
I am using the sexy artwork of Uchakina Irina which you can purchase at MPT.
PTU Scrapkit by Mirella called Fallen in Love found HERE (find under designer Scrapity Scrap and More) or HERE (tagger size).
Thank you Mirella! ♥ Absolutely love this kit!
Font used is Astaroth WF, a payfont
No plugins.
* * * * *

1. Open a new transparent image 700 x 600 px. Flood fill white.
Open element 66, the grapevine wreath, resize 85%. C/P as a new layer.
Using the selection tool, freehand point-to-point, draw a selection beyond the inside of the wreath.
Open paper 23, resize to 500px. C/P as a new layer.
Invert selection ~ delete ~ select none. Move the paper layer below the wreath.
D/S the wreath 2/2/69/4 blur, color black.

2. Open element 5, circled ribbon. C/P as a new layer. Image ~ rotate 90 degrees to left. D/S.

3. Open element 21, basket. Resize 60%. C/P as a new layer. D/S.
To make the girl appear to be sitting in the basket,
draw a selection using your point-to-point selection tool,
as below:
Promote this selection to a new layer by right clicking on the basket layer on your material palette.
Important: Lock the two basket layers together by choosing the layer link toggle on your material palette for both layers, changing the number to 1.

4. Open tube of choice. C/P as a new layer between these two basket layers.
Using your eraser, erase any of the tube that extends beyond the bottom/sides of the basket (not the top).
Duplicate the tube layer. Move the duplicate layer above the promoted basket selection layer.

To make her elbows appear to extend outside the basket,
avoid erasing her elbows by using the point-to-point selection tool and draw a selection
carefully around both elbows (you may magnify your working image by using the center wheel on your mouse to help visualize the area)
and continuing to draw around the bottom of the tube to delete, thereby unhiding the basket layer below.
D/S the upper tube layer using 2/3/69/9 blur, color black 'n ticking the drop shadow on a New Layer box.
Erase any undesired dropshadow with the eraser tool.

5. Now to personalize your tag, add any elements of choice.
element 19 ~ 25%, element20 ~ 25%, element23 ~ 50% (duplicate ~ mirror),
element17~ 45%, element18 ~ 75% (rotate 90 degrees left),
element28 ~ 100%, element (duplicate ~ mirror),
element32 ~ 75%, element34 ~ 80%, element40 ~ 100%, element44 ~ 75%,
element45 ~ 100%, element47 ~ 50%, element54 ~ 75%,
element50 ~ cut out individual leaves using selection tool, resize as desired.
element60 ~ 35%, element60 ~ 50%. Sharpen.
D/S all elements added using 2/2/69/4 blur, color black, making sure to 'untick' the shadow on new layer box.

6. Add element42 ~ 100% C/P as new layer above your white background layer. Move to top left.
Duplicate ~ mirror. Duplicate again ~ flip.
Rotate leaves as desired.
Do not D/S.

7. Add copyright, URL and name.
Delete white background layer. Merge visible and save as a PNG.
Voila!