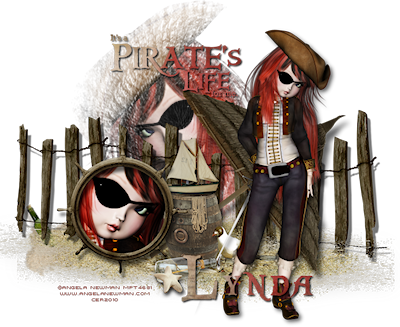 This tutorial is written for those with a working knowledge of PSP.
Supplies Needed:
I am using Corel PSP X2 version but any version will do.
Tubes of choice, preferably one with a close-up tube.
I am using the brilliant artwork of Angela Newman which you can purchase at MPT.
FTU Ocean Solace Cluster Frame by Ellen found HERE Thank you, Ellen! ♥
Mask09 by Artmama found HERE dated 4/23/10. Thank you, Artmama! ♥
Wordart by Elegant Wordart found HERE Thank you, Bethany! ♥
Freebie Scrap Paper by Create Wings Designs & Catherine Designs found HERE Scroll down til you see download and use top R-C23 Addon Paper link.
Thank you so much CW Designs & Catherine Designs. ♥
Font used is Pieces of Eight found HERE
No plugins used.

This tut is dedicated to Lynda of Kreative Mindz Designz for being the inspiration for writing this tut.
She is one talented tagger and a wonderful friend. ♥
Thank you Lynda!

* * * * *

1. Load the mask09 into your masks folder 'n direct your PSP program to the same folder using File Locations.
Open the cluster frame, using crop tool ~ crop using Merged Opaque.
Resize 20% and then canvas size 750 x 650.
Move the cluster frame slightly downward on your canvas.

2. Using your selection tool, draw a point-to-point selection beyond the ship's wheel opening.
Open your close-up tube, C/P as a new later, align ~ invert selection ~ delete ~ deselect.
Move tube layer below cluster frame.
Duplicate tube layer. On duplicate, adjust blur ~ gaussian blur of 1 ~ change blend mode to soft light.
Sharpen the original tube layer only.

3. Add a new raster layer ~ move to bottom ~ flood fill white.
Open close up tube again ~ mirror ~ C/P as a new layer above white bg.
Layers ~ Load Mask from disc ~ find ArtmamaMask09
select source luminance, fit to layer and hide all mask.
Apply. Merge group. Move this masked layer so it appears her face is looking through the fence,
being careful to not cut off the top portion of the masked layer on your canvas.

4. Use selection tool, point-to-point, draw a selection around the glass bottle 'n starfish seen in front of the whiskey barrel.
Use the center wheel on your mouse to magnify your working image to help visualize area selected.
Promote this selection to a layer by right clicking on your layers palette.
Copy the main tube 'n paste as a new layer between the cluster frame and the promoted bottle layer.
Erase the small pumpkin at the end of her stick.
D/S the tube layer only using 4/4/65/4blur, color black.


5. Open wordart, resize 15%, C/P as topmost layer.
Select all ~ float ~ defloat ~ invert
Open paper R-C23 Addon Paper ~ resized to 500 px.
C/P as a new layer above your black wordart ~ align so two colors from paper fall with in the selection area (see reference tag)
press delete. Deselect.
Delete original black wordart layer. D/S the new wordart layer with same setting as above.

6. Do the very same process for your name. Using black fill color only,
sz 120 for first letter of your name and sz 100 for remaining letters, type your name.
Convert to raster layer. Select all ~ float ~ defloat ~ invert.
The scrap paper should still be on your clipboard so paste as a new layer. Delete. Deselect.
Delete original name layer and D/S new name layer.

If you wish to resize, do so now using 90-95% smartsize.

7. Add copyright, URL and watermark.
Delete white background layer. Merge visible, crop MERGED OPAQUE and save as a PNG.
Aiyeeeeee! You've created your new pirate tag!
Hope you enjoy!