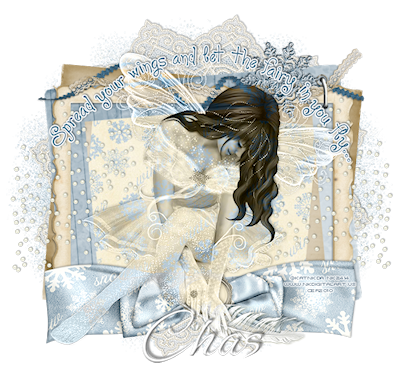 This tutorial is written for those with a working knowledge of PSP.
Supplies Needed:
Corel PSP X2 or any version will do.
Tube of choice. I am using the stunning artwork of Katnkda. You can purchase a license to use her work HERE.
FTU by Cinnamon Scraps called Snow Princess found HERE Thank you, Laura! ♥
Round Mask of choice
Wordart by me found HERE
Font used is Ephesis, a pay font


Another quick 'n easy tut.

* * * * *
1. Open a new transparent image 700 x 650 pixels, flood fill white. We can resize later.
Add a new raster layer ~ select All
Open paper 13 ~ copy ~ paste into the selection ~ deselect.
Open mask of choice ~ minimize. Layers ~ New Mask Layer ~ from Image ~ apply mask (source luminance).
Merge group.

2. Open lace1, C/P as a new layer above masked layer.
D/S 1/1/45/4 blur color # 202020.

3. Open frame2, C/P as a new layer.
Rotate ~ free rotate 90 degrees to right.
Using magic wand, select inside of frame ~ modify selection ~ expand by 10.
Open paper 12, resize to 600 px. C/P as a new layer below frame.
Invert selection ~ delete ~ deselect.

3. Open ribbonwrap2. C/P as a new layer above frame. D/S.
Open blings1 ~ resize 50%. C/P as a new layer. Move to left. Duplicate ~ mirror.
D/S both bling layers.

4. Open main tube of choice. C/P as a new layer. Resize. Sharpen.
Place on top of ribbon wrap.
Change blend mode to Luminance (l).
D/S 1/2/45/9 blur color # 202020.
Duplicate.

5. Add any other elements of choice.
Feather 50% ~ mirror ~ flip. D/S 1/1/45/4 blur color #202020.
Wordart of choice or one supplied.

If you wish to resize your finished tag, do so now using 90% smartsize.


6. Add copyright, URL, watermark 'n name.

Delete white background, merge visible & save as a PNG.
Hope you enjoy your new Fairy tag!