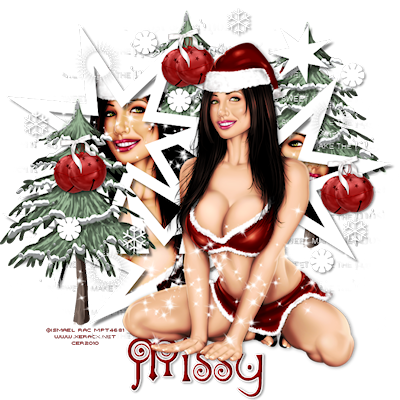 This tutorial is written for those with a working knowledge of PSP.
Supplies Needed:
Corel PSP X2 version or any version thereof.
Tubes of choice preferably one with close-up. I am using the sexy artwork of Ismael Rac. You can purchase a license to use his art HERE

FTU scrap kit by Missy called Holiday Wishes found HERE Thank you, Missy! ♥
Plugins: Xero - Radiance
Optional: Eye Candy 4000 ~ Gradient Glow for name onlyFont used is Nocker found HERE

Download the preset shapes into your preset shapes folder.
Using file locations, direct PSP to locate the shapes folder.
* * * * *
1. Open new transparent image 675 x 675 px. Flood fill white if desired.
Open snow tree ~ 55% C/P as a new layer. Duplicate twice. Arrange. Resize one snow tree 90%.

2. Using preset shapes, find Star 4, foreground white and background nil, width set to 19 or 20 px.
hold the 'shift' key and draw
a shape approx. 672 x 572 px. allowing room on edges for drop shadow.
Convert to a raster layer. Arrange so preset shape is above the two larger snow trees but below the smaller snow tree layer.


3. Copy closeup of tube. Paste as a layer below your preset shape, arranging so face is peeking through the star shape.
Using point-to-point selection, draw a selection around star shape. Invert ~ delete the excess tube.
Do same for other large star shape, making sure the tube layers are below the preset shape.
Merge down the second tube layer to the first tube layer.
Apply Xero ~ Radiance to tube layer ~ 128, 50, 128, 255.
Duplicate this layer. Change blend mode to multiply and drop opacity to 76.

4. On your layer palette, arrange the smaller snow tree to sit on top of the preset shape, to the left.
D/S the preset shape 5/5/50/5 blur color black

5. Open red bell2, resize 25% & 50%. C/P as a new layer. Duplicate twice. Arrange as desired.
D/S 2/2/50/5blur black

6. Open main tube, C/P ~ duplicate. On duplicate apply same Xero ~ Radiance setting as above.
Drop opacity to 63%.
D/S main tube only 2/3/50/9 blur, color black


7. Open Sparkles ~ 80% C/P as a new layer above topmost tube. Duplicate. Arrange duplicate immediately above preset shape layer.

8. C/P wordart supplied above the bottom two snow tree layers.

9. Now to decorate your tag, draw different snowflake shapes, holding 'shift' key to keep shape uniform. Foreground nil, background white.
Draw out as many as desired. D/S 2/2/50/5 black.

If you wish to resize, do so now using 90- 95% smartsize.

10. Add your copyright, URL, watermark & name.
Delete white background layer.
Merge visible ~ save as a PNG.

Hope you enjoy your Holiday Wishes tag.