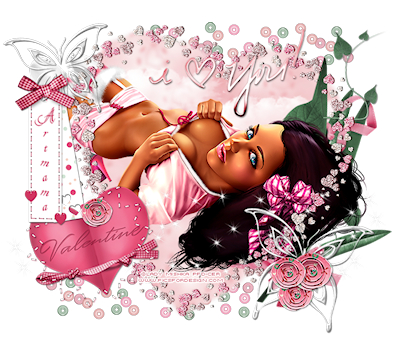 This tutorial is written for those with a working knowledge of PSP.
Supplies Needed:
Corel PSP X2 version but any version thereof.
Tube of choice. I am using the beautiful artwork of Lady Mishka. You can purchase a license to use her work at Pics for Design
Visit Lady Mishka's blog HERE
PTU kit by Artmama called Sweet Lovin' found HERE (tagger size)
Thank you, Artmama, for a wonderful kit. I loved working with it. ♥
No plugins used.
Font for name is Pirouette LT Std, a pay font.
* * * * *
1. Open a new transparent image, 700 x 600 px. Flood fill white.
Open embellishment 07, heart cluster
,
C/P as a new layer
.
Image rotate 10 degrees to right. Sharpen.
Using point-to-point freehand selection tool, draw a selection around the periphery of the cluster to mimick a heart shape.
Add a new raster layer.
Open paper 02, resized to 600 px wide. Copy 'n paste INTO the selection. Deselect.
Adjust ~ blur ~ gaussian blur of 3. Move this paper layer below the heart cluster on your layer palette.

2. Open embellishment 09 (cloud), resize 75%, C/P as a new layer on upper left of paper. Duplicate cloud 'n moving down 'n to right.

3. Add tube of choice. If using same tube, resize 85% smartsize.

4. Customize tag with embellishments of choice:
embellishment 06 ~ 45%,
embellishment 05 ~ 50% and one at 40% (add a nice inner bevel to the butterflies as below):

embellishments 22, 24 & 25 ~ 100%
embellishments 34 & 36 ~ 75%,
embellishment 37 ~ 50%
(duplicate ~ mirror & flip)
C/P below paper layer
embellishment 45 ~ 50%
(duplicate as many as desired, resizing if desired)
embellishment 53 (wordart) ~ 75%.

5. Add copyright, URL, license #, watermark 'n name.
Note: If you wish to make Name as in reference tag, choose fill color # d43764
,
font of choice, sz 36 px
,
choose vertical 'n left as direction of font
,
kearning set at minus 400
,
anti-alias smooth, create as vector
Type name ~ apply but do not convert to raster layer, instead click on + sign on layer palette, right click on layer with your name on it (ie. layer below vector layer)
select 'convert text to curves' ~ as character shapes
Look on layer palette and click on + sign beside your name, this will open each letter on individual layers. Click on first letter of your name (bottom most letter) and rotate the deformation
slightly to left. Rotate each letter as desired. Using this method also allows you to bring the letters closer together vertically if needed.
When happy with letter placement, change the - sign beside your name to +, then select the Vector layer and right click, choosing 'convert to raster layer'.
Add a very light D/S of 0, 0, 69, 2 blur color # b33050.
6. Delete white background, merge visible and save as a PNG.
Hope you enjoy your Valentine creation! :+)