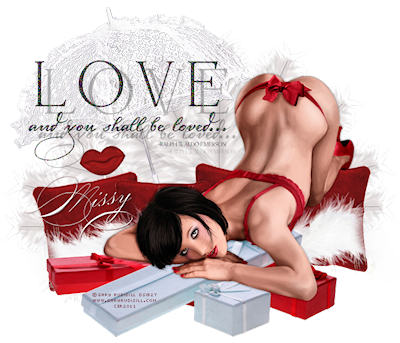 This tutorial is written for those with a working knowledge of PSP.
Supplies Needed:
Corel PSP X2 or any version thereof.
Tube of choice. I am using the amazing artwork of Gary Rudisill. You can purchase a license to use his art at DreamScape Imaging.
PTU Scrap kit by Missy called Amore Mio found HERE (tagger size) Thank you, Missy! ♥
Wordart found HERE If this wordart belongs to you, please contact me so I can credit and/or delete.
Plugins: Xero ~ Radiance
Font for name is P22ZanerFour, a payfont
* * * * *
1. Open a new transparent image 700 x 600 px. Flood fill white. Can resize later if desired.
Open element 11 (pillow), resize 25%. C/P as a new layer.
Move to left 'n bottom one third of working image.
Duplicate ~ mirror.
Duplicate original again, duplicate ~ mirror.
Arrange in a horizontal row.
Use pick tool to rotate pillows slightly to left or right.
Sharpen if rotating.
2. Element 31 ~ 80%. C/P. Rotate 25 degrees to left.
To rid of hard edges on feathers, use your eraser tool,
set to Fuzz Soft setting, erase the hard edges for feather effect.
3. Add element 32 ~ 65%.
element 44 ~ 75%. Move below pillow layers and slightly to left. Duplicate ~ mirror. Place as reference tag.
element 37 ~ 60%.
element 40 ~ 24%.
Note: No dropshadows were added, except a very soft D/S to umbrella.
4. Add main tube of choice. Resize of necessary.
Duplicate ~ adjust blur ~ gaussian blur ~ 1 ~ change blend mode to softlight. Drop opacity to 50.
On original tube layer, apply Xero ~ Radiance setting: 21, 33, 21, 224.
Sharpen this layer ~ Adjust Sharpen ~ unsharp mask ~ radius 1, strength 50, clipping 1
luminance unchecked.
Adjust Brightness/Contrast minus 20, 1 respectively.
Add D/S of choice to original tube layer only.
5. Add wordart supplied. Resize. Add effect desired.
If you wish to resize tag, do so now.
6. Add copyright, URL, watermark and name.
Delete white background, merge visible and save as a PNG.