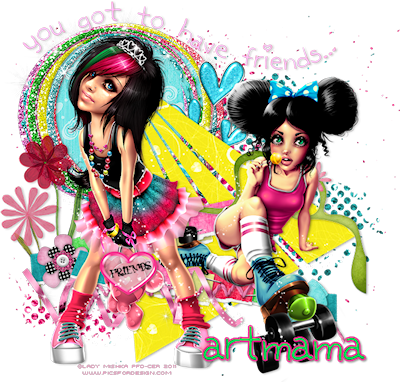 This tutorial is written for those with a working knowledge of PSP.
Supplies Needed:
I am using Corel PSP X2 version but any version will do.
Tubes of choice by same artist with same company!
I am using the funky artwork of Lady Mishka who used to be with Pics For Design but found now with PTE.
PTU Scrapkit by Artmama called Magical Mishka found HERE (tagger size) or HERE
Thank you Artmama! ♥ Absolutely love the colors in the kit!
Font used for name & wordart is Kaileen found HERE.
Plugins: EyeCandy 4000 ~ Gradient Glow
Template by myself found HERE
* * * * *

1. Open a new transparent image 700 x 650 px. Flood fill white. We can resize later.
Open embellishment 15, resize 80% twice. C/P as a new layer, moving to left 'n upward.
Using selection tool ~ point-to-point, draw a circular
selection beyond the inner opening of the element. Open paper of choice, resize 600 px wide.
C/P as a new layer. Invert selection ~ delete ~ deselect. Sharpen
Move the paper layer below the rainbow circle layer.

2. Open my template. C/P as a new layer. Select all ~ float ~ defloat ~ invert.
Open paper of choice, resize 700 px wide. C/P as a new layer ~ delete ~ deselect.
Rotate this layer 30 degrees to left. Sharpen. D/S with setting desired or 1/1/45/ 5 blur, color #202020.
Close original template layer.

3. Add two main tubes of choice. Resize one smaller than other. D/S both.
Add other elements of choice or see reference tag.
I resized most at 80% or 80% twice. Have fun with the elements to make your tag original. D/S as you go.
Add glitter elements 5 & 6 above the white background layer. Do not D/S.
Add sparkles above your main tube layers.

4. To add our wordart, use pen tool ~ draw freehand, foreground color black, fill color nil
line style solid ~ width 2 px. draw a freehand curved line starting left, above rainbow circle moving right.
click on text tool, select Kaileen sz 72, fill color of choice. find crescent shape on the pen line you just drew,
type out "you got to have friends..."
Apply.
On layer palette, click on +sign, this opens the layers. click on the eye of the new path layer. This closes the curved path line you drew.
Convert your vector 1 (text layer) to a raster layer by right clicking on the layer palette.
Center as desired. Use an inner bevel to accentuate. I used bevel 2, width 31, 16, 16, -16, 6, angle 315,
intensity 40, elevation 90, color white. D/S.

5. Add name in fill color of choice. Apply inner bevel as above.
Using eyecandy 4000, gradient glow, apply a glow in color of choice, using glow width 3, corners 0, 100 opacity,
Fat setting but move right paint arrow slightly towards middle.
D/S

If you wish to resize tag, do so now using 90% smartsize.

6. Add copyright, URL and watermark.
Delete white background layer. Merge visible and save as a PNG.
Hope you like your friends creations! :+)