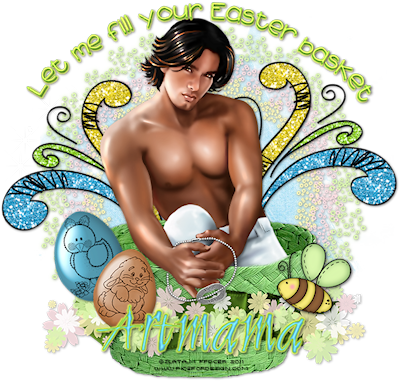 This tutorial is written for those with a working knowledge of PSP.
Supplies Needed:
I am using Corel PSP X2 version but or any version thereof.
I am using the sexy artwork of Zlata_M of Pics For Design found HERE
Freebie Easter kit by Artmama called Spring Into Easter found HERE Thank you Artmama! ♥Easter basket found HERE
Vix_ Mask350 found HERE
Font used for name is Clive Barker found HEREWordart by me found HERE
Optional Plugin: EyeCandy 4000 ~ Gradient Glow for name only.

* * * * *

1. Open a new transparent image 700 x 650 px. Flood fill white. We can resize later.
Add a new raster layer. Select all.
Open paper 10, copy 'n paste INTO the selection. Deselect. Sharpen.
Open Vix_mask350, minimize. Image ~ new mask layer ~ from image ~ find mask ~ apply. Merge group.

2. Open embellishment 3, resize 80%, C/P.
Duplicate. On original layer ~ gaussian blur setting of 2.
Add embellishment 27 ~ 80% C/P to left ~ duplicate ~ mirror ~ flip.
Open embellishment 10 ~ 80%. C/P as a new layer. Move to left. Rotate with deformation tool (pick tool). Sharpen.
Duplicate ~ mirror. Offset slightly upward.

3. Open basket of choice ~ resize 12%. C/P.
Add main tube of choice. Resize. C/P.
Brighten tube using brightness/contrast ~ clarify setting of 3.

To erase bottom portion of tube, magnify your workspace with center wheel of your mouse to 200% or more.
To better visualize basket, drop opacity of your tube layer to approx 50% on your layer palette.
Using selection tool, point to point, draw a selection around fingers and bottom of pants that you wish removed. Delete. Deselect.
See below: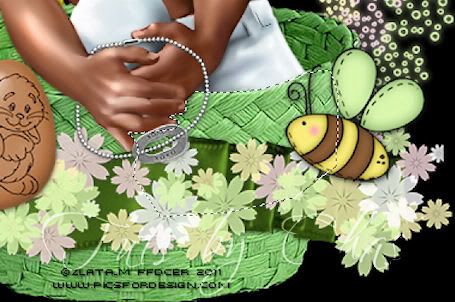 NOTE: *Remember to increase opacity of tube layer back to 100% when done*

4. Add embellishements of choice. Colorize embell 30 using 'color changer' tool. Change foreground to # 8ac93a. Flood fill brown ribbon with green foreground color.
C/P above basket layer but below tube. Add:
Embellish 29 ~ 45%
Embell 15 ~ 80%
Embell 16 ~ 75%
Embell 11 ~ 80%
Embell 6 ~ 80%

5. Add wordart of choice. D/S all your elements using 1/1/55/5 blur color black.
If you wish to resize, do so now.
6. Add copyright, URL, watermark 'n name.
For name use a lime green foreground color, baby blue fill color. Font sz 72. Stroke width set at 1.
Anti-alias smooth.
Type name. Convert to raster layer. Select all ~ float ~ defloat ~ modify selection contract by 1. Apply favorite inner bevel setting. Deselect.
Using EyeCandy 4000, gradient glow apply a small yellow glow to name.
D/S using 2/2/55/5 blur color black.

Voila! You're done!