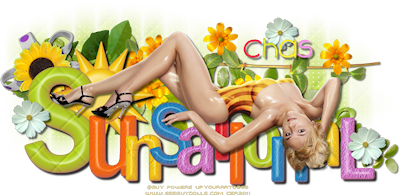 This tutorial is written for those with a working knowledge of PSP.
Supplies Needed:
Corel PSP X2 version or any version thereof.
Tube of choice. I am using the sexy artwork of Guy Powers. You may obtain a license to use his work at
Up Your Art
FTU scrap kit by Rosie's Playground called Bright Summer found HERE Thank you, Rosie! ♥
Gina Gem's mask5 found HERE Thank you Gina! ♥
Font used for name is 2Peas Sunshine found
HERE
Another quickie tut...
* * * * *
1. Open element 32 (the sunsational wordart), resize 85% with all layers unchecked.
Move the wordart slightly downward.

2. Open element 16, resize 85%, C/P as a new layer below the Sunsational wordart.
3. Open paper 2, C/P as a new layer. Move to bottom.
Add a new raster layer above the paper layer ~ select All.
Back to the paper layer, choose Image ~ crop to selection.

4. Still on the paper layer, crop using crop 'merged opaque'.
Open mask, minimize. Layers ~ new mask layer ~ from image ~ find ginasgem_mask5 & apply.
Merge group.

5. Add flowers of choice.
Element 5 ~ 7%

6. Drop shadow all elements using 4/4/55/4 blur, color black.

7. Add copyright, URL, watermark & name.
I used different colors from the wordart to colorize each letter.
Add your favorite inner bevel setting. D/S.

8. Merge visible. Save as a PNG.


Fait accompli!