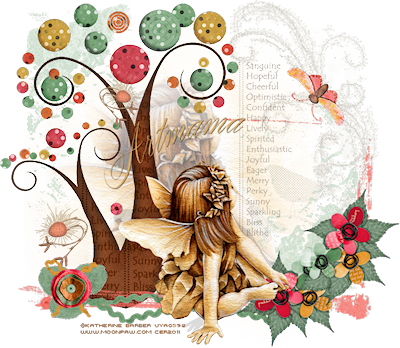 This tutorial is written for those with a working knowledge of PSP.
Supplies Needed:
Corel PSP X2 version or any version thereof.
Tube of choice. I am using the beautiful artwork of Katherine Barber. You may obtain a license to use her work at
Up Your Art
PTU scrap kit by Artmama called Sanguine found at Exquisite Scraps or on her blog HERE2020 mask HERE
No Plugins
Font for name is Wolfgang Amadeus Mozart found HERE
* * * * *
1. Open a new transparent image 700 x 650. Flood fill white.
Open element 8 (tree) ~ resize 80% C/P to left of working image
Select all ~ float ~ defloat ~ invert
open element 43 (wordart) ~ resize 80% C/P over top of tree ~ delete excess
repeat again over another part of tree. Deselect.

2. Open main tube ~ C/P above white bg
Open 20/20 mask, minimize
Layers ~ New Mask Layer ~ from image ~ find 2020 mask 'n apply.
On your layer palette, duplicate the mask layer and then merge group.
You may have to apply mask one more time, depending on tube used.
Mirror masked tube (if using same one)

3. Open element 5 ~ 80% C/P to left of image. Duplicate ~ mirror ~ flip
open element 7 ~ 80% C/P
apply the 2020 mask to this layer as well to soften the hard edges
or use eraser tool set at fuzzy soft setting sz 150 opacity 100 to erase the hard edges.
open element 25 ~ 75% C/P to top right of image ~ drop opacity to 38
4. Back to element 43 (wordart) which is already resized at 80%
further resize 60% C/P to right of tree, then drop opacity to 38
Add element 23, C/P as is
Add element 34 ~ 80% C/P to bottom of image ~ duplicate ~ mirro
Add element 14 ~ 75% C/P ~ rotate with pick/deform tool ~ sharpen
Duplicate 'n arrange duplicate.
Add element 13 ~ resize 40% C/P
Add element 15 ~ 25% ~ C/P under flower (element 13)
Duplicate a couple of times 'n rotate each leaf seperately ~ sharpen.
Add element 32 ~ 50% C/P above leaves but below flower (element13)
Add element 16 ~ 50% ~ C/P a couple of times, resize as desired
Add element 26 ~ 50% C/P 'n rotate with pick tool as desired ~ sharpen.
No dropshadows were used except a light setting on name only.

5. Add main tube again ~ resize 50% C/P
Optional: Duplicate tube
On original tube layer ~ brightness/contrast -255/0 (changes tube color to black)
Close off duplicate tube layer.
drop opacity of original tube to 15 and move this 'shadow' layer slight left 'n upward.
Open duplicate tube.
The shadow is barely visible on the reference tag
but I wanted to give you the option to add a shadow via this method.

6. If you wish to resize, do so now using smartsize.
7. Add copyright, URL, watermark and name.
To add name on curve,
on material palette, foreground black (fill nil)
select pen tool ~ point to point bezier curve ~ create on vector ~ line width 2
click to make first 'node' on left wing (see below) and
then click again to make second node (below butterfly)
and then drag the cursor (mouse) to right 'n downward while holding down the left click button on mouse,
making a gentle curve as below:

When happy with curve placement, let go of mouse and it creates a smooth vector curve.
Select font sz 72, foreground nil, fill color #dcae64
Type name when you see a crescent shape on 'A' of center of curve.
Note: You can easily move your text by moving the center node of the deform box either left or right
(the text will follow the path of the curve as you move it)

Back to layer palette, click on + sign (open the layers), close the new path layer then convert the text to a raster layer.
Duplicate text ~ merge down ~ D/S 1/1/55/0 blur ~ black.

I hope that makes some sense to you. :+)
This blend looks best on a white background so merge all flatten and save as a JPEG
or delete white bg, merge visible and save as a PNG.

Well done!


Hope you enjoy your whimsical creation!