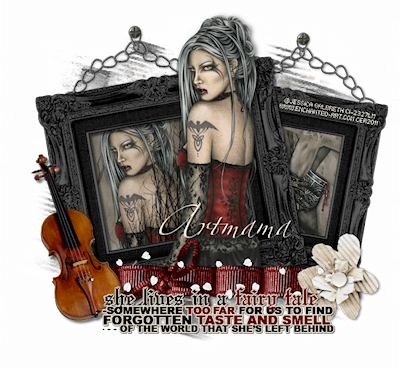 This tutorial is written for those with a working knowledge of PSP.
Supplies Needed:
I am using Corel PSP X2 version or any version thereof.

Tube and image of choice. I am using the beautiful artwork of Jessica Galbreth. You can purchase a license to use her art at CDO.
This tube/image was available with CILM but at time of writing, was not available at CDO.
PTU kit by Artmama called It's Snow Wonderful found HERE or HERE.Thank you Artmama! ♥
Yes, it's a Christmas kit but I loved the versatile elements in this kit.
Supplies HERE includes mask and wordart.

Font for name is Zapfino Extra LT Four, a payfont
* * * * *
1. Open a new transparent image 650 x 600 px. Flood fill white.
Add a new raster layer ~ select all
open paper 2 ~ copy 'n paste into the selection. Deselect.
Open mask, minimize. Layers ~ new mask layer ~ from image ~ find mask 'n apply.
Merge group. Duplicate mask ~ mirror ~ flip.
Move duplicate below original mask ~ change color to black using brightness/contrast -255/0.
Drop opacity to 69.
Add effects ~ noise ~ random ~ monochrome checked ~ setting of 9.
Do same for original mask layer.

2. Open frame embellishment 07 ~ 58% C/P ~ free rotate 10 degrees left 'n move to left
Duplicate ~ mirror ~ resize 80%. Move this frame below larger frame.

3. Draw a point-to-point selection around the larger frame. Open image of choice,
rotate image 10 degrees to left ~ C/P as a new layer below large frame ~ delete ~ deselect.
Sharpen. D/S large frame 3/3/55/5 blur, black
Open embellishment 32 ~ brightness/contrast -255/0
C/P above image but below frame. Delete excess that extends beyond frame.

Repeat for small frame using a different part of the image omitting
embellishment 32.

4. Add main tube as the uppermost layer. D/S 2/3/55/10 blur, black
Adjust brightness/contrast ~ clarify ~ setting of 3.

5. Add embellishment 05 C/P over main tube.
Using deformation/pick tool, resize to fit across the bottom of both frames.
Sharpen & D/S 3/3/55/5 blur, black.
Add embellishment 11 ~ 50% C/P above ribbon.
Embell 33 ~ 75%
Embell 44 ~ 70%
Embell 02 ~ 25%
Embell 04 ~ 65%
Embell 03 ~ 65%

Add D/S to added elements 1/1/40/5 blur, black

6. Add wordart C/P
Select All ~ float ~ defloat ~ modify selection expand by 2
Add a new raster layer ~ flood fill with color # dad3c5 ~ deselect.
Move this layer below wordart. D/S

7. Add copyright, URL, watermark & name.

Hope you like your gothic creation!