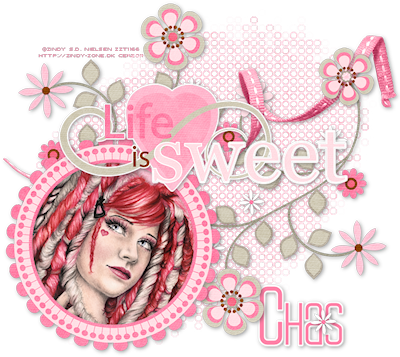 This tutorial is written for those with a working knowledge of PSP.
Supplies Needed:
I am using Corel PSP X2 version but any version will do.
Image or tube of choice. I am using the amazing artwork of Zindy S. D. Nielsen. You can obtain a license to use her work
HERE
FTU sampler by Kay Miller called Life Happens Sweetly found HERE Thank you Kay! ♥
Just scroll down to find download link
Mask457 by Insatiable Dreams found HERE
(in Masks 12 set ~ page 2)
EyeCandy 4000 ~ Gradient Glow

Another quickie tut...
* * * * *
1. Open up a new transparent image 700 x 650 pixels and flood fill white to best see what we're working with.
Add a new raster layer above the bg, flood fill with #ffa5b3.
Open mask, minimize. Layers ~ new mask layer ~ from image ~ find mask 'n apply. Merge group.
Resize mask 90%.

2. Open floral cluster ~ 25% C/P move upward 'n to left
Duplicate ~ mirror ~ flip ~ move slightly upward 'n to right.
Open ribbon 1 ~ 20% C/P

3. Circle frame ~ 20% C/P move to lower left
Draw a point-to-point selection beyond inner opening of circle.
Add a new raster layer, move it below the frame on your layer palette
Open paper 2, copy 'n paste INTO the selection. Sharpen.

4. Open tube/image of choice. C/P as a new layer ~ arrange ~ invert selection ~ delete ~ deselect.
Brighten tube using brightness/contrast ~ clarify ~ setting of 3.
Sharpen tube only if needed.
D/S the circle frame 2/2/45/5 blur, color #404040.

5. Open wordart ~ 20% C/P as desired.
Apply eyecandy gradient glow ~ glow width 3, soft corners 0, overall opacity 100,
Setting at medium, color white.

6. Open flower2 ~ 10% C/P

7. Add copyright, URL, watermark & name using font Weltron. Apply gradient glow to name.
Open floral cluster ~ draw a selection around one of the white flowers seperate from cluster ~ C/P ~ resize 25%
Place flower on top of name for added effect.
D/S all elements added except circle frame & masked layer.
Delete white bg ~ merge visible ~ save as a PNG.
Hope you enjoy your new tag!