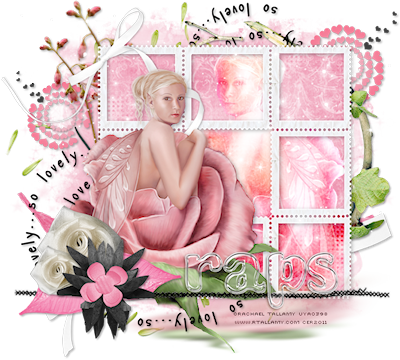 This tutorial is written for those with a working knowledge of PSP.
Supplies Needed:
Corel PSP X2 version or any version thereof.
Tube of choice. I am using the beautiful artwork of Rachael Tallamy. You may obtain a license to use her work at
Up Your Art
PTU scrap kit by Ninie's Designs called Lovely Things found HERE
Chichi Mask 2 found HERE
Light Effects CU freebie by designs by Sarah found HERE (scroll down a bit)
Plugin: Adjust ~ Variations
Eye Candy 5 ~ Impact
Font for name is Alpha from the kit
* * * * *
1. Open a new transparent image 700 x 650. Flood fill white.
Open element 35 ~ resize 450 px C/P on working image.
Draw a rectangular selection within the outer edge of the stamp frame.
Add a new raster layer. Move this layer below the frame
Open paper 6 and paste into the selection. Sharpen.
Open tube of choice ~ mirror ~ C/P as a new layer (arrange as desired) ~ invert selection ~ delete. Deselect.
Change the blend mode of the tube to overlay.
Using plugin Adjust Variations ~ change the color to a soft pink of your liking.
D/S the frame using 4/4/35/10 blur color #404040.

2. Add a new raster layer above the white bg. Select all
Open paper 4, paste into the selection. Sharpen. Deselect.
Open mask, minimize. Layers ~ new mask layer ~ from image ~ find mask 'n apply. Merge group.
Resize if desired.

3. Open element 19, resize 600 px wide. C/P above masked layer.
element 5 ~ 537 px wide C/P to left of working image
element 7 ~ 327 px C/P on working image to right. Duplicate ~ resize 75% ~ mirror.
Arrange. D/S both with same setting as above.
element 9 ~ 625 px ~ C/P near bottom D/S
element 23 ~ 233 px ~ C/P to left ~ duplicate ~ resize 75%
Slightly turn duplicate copy to left with deform/pick tool
sharpen ~ D/S both elements
element 24 ~ 595 px wide ~ C/P to right D/S

4. Open light effects by Sarah ~ resize 562 px wide C/P above frame layer. Duplicate 'n mirror. Arrange.
element 06 ~ resize 406 px C/P top left

5. Open tube C/P to left of image ~ adjust brightness/contrast ~ clarify 3.
Use plugin Adjust Variations to soften tube using pink setting of choice.
EyeCandy5 ~ Impact ~ prospective shadow ~ choose setting 'reflect in front, short'

6. Add element 28 ~ resize 680 px wide C/P ~ use deform/pick tool to fit image (if needed)

7. To drop shadow main tube, draw a selection around tube that sits above element 28 ~ right click on layer palette ~ promote this selection to a layer
Deselect. D/S as desired. This avoids a dropshadow on the reflection below the tube.
Add elements of choice:
element 36 (wordart) ~ 587 px
element 8 ~ 210 px
element 16 ~ 210 px ~ duplicate ~ resize 75%
element 30 ~ 136 px ~ duplicate ~ mirror ~ arrange to make one flower
element 10 ~ 120 px wide ~ place on top of black flower
D/S each flower

If you wish to resize image, do so now using smartsize.

8. Add copyright, URL, watermark and name using alpha resized 15% or less.


9. Delete white background ~ merge visible ~ save as a PNG.

Hope you enjoy your creation!