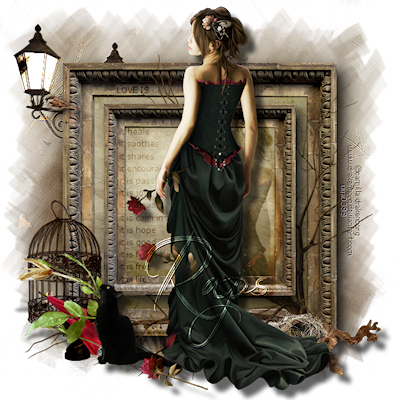 Supplies needed:
Tube of choice.
I am using the ever-stunning artwork of Camilla Drakenborg. You may obtain a license to use their artwork at UpYourArt
FTU Minikit by BelScrap called Octubre found HERE
Mask used found HERE
If this is your mask, please notify me via my blog and I will gladly credit and/or delete.
Wordart supplied HERE
Optional Plugins: EyeCandy 4000 - ShadowLab
Font: Filigree, a pay font
1. Open a new image 625 x 625 px. Flood fill white.
Add a new raster layer, selections ~ select All.
open paper of choice or Fondo 10 ~ paste into the selection. Deselect.
Open mask of choice or the one supplied. Minimize.
Layers ~ New Mask Layer ~ from Image ~ find mask in drop down menu & apply.
Merge group. Close off mask.
Still on mask layer, go to effects ~ edge effects ~ enhance. Apply.
2. Open element Farola (light standard) resize 25%, C/P as a new layer - mirror.
Place to left over the light standard faintly seen on the masked paper.

3. Open paper Fondo 9 - resize 10% ~ C/P as new layer.
Selections ~ select all ~ float/defloat
open tube you're using ~ C/P as a new layer ~ placing slightly to right
and press 'delete' on keyboard. Deselect.
Change blend mode to 'soft light'.
Open word art supplied ~ C/P as new layer above blended tube.
Place to left of frame. Change blend mode to 'burn'.

4. Open paper Fondo 9 again, resize 15% & again at 95% ~ C/P
as a new layer below the smaller frame.
Drop shadow with large blurred setting or
use EyeCandy 4000 ~ shadowlab ~ faint drop shadow setting

Use same D/S setting for smaller frame.

5. Add other elements of choice ~ resizing 10 - 25 %.
D/S elements

6. C/P main tube ~ D/S using heavier/darker setting or the one below: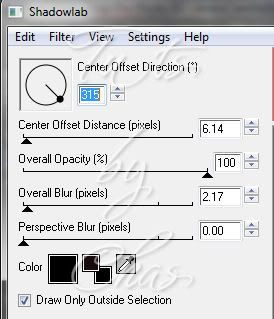 7. If you wish to resize your image, do so now using smartsize.
6. Add copyright & name.
Use filigree, sz 90, fill color white, foreground nil,
add name, change blend mode to 'overlay' & duplicate.
D/S.
8. Delete white bg, merge visible
Save as a PNG
Voila!
Hope you enjoyed this quick tutorial!