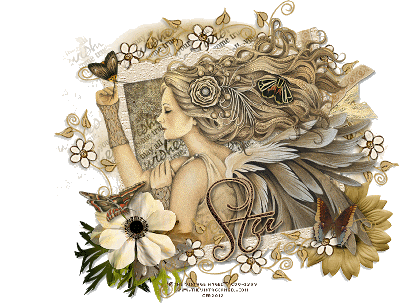 CLICK ON ABOVE PREVIEW TO VIEW FULL SIZE
Supplies Needed:
Corel PSP X2 or any version thereof.
Tube of choice. I am using the beautiful artwork of The Vintage Angel™.
You can purchase a license to use her work at CDO
FTU blogtrain minikit by Stu of Creative Crazy Scraps Thank you, Stu!
Paper of choice or the one I used HERE from Dillie's Designs kit Blue Roses ~ ddpaper4
Font for name is Before The Rain found HERE
Love this font!
* * * * *
1. Open a new transparent image, 660 x 550. Flood fill white.
Add a new raster layer. Select All ~ open CCS paper 5 ~ copy
paste into selection. Deselect. Apply mask. Merge group.
Open wordart ~ resize 15% ~ C/P.
Apply Mura's Meister Copies ~ tiling Angle - standard setting except change gap to 2.
Apply same mask to this layer. Merge group.
Change blend mode to Luminance (l).
Open element 5 ~ 60%. C/P rotate 10 degrees left.
Using selection tool, point-to-point, draw a selection
around this frame. Add a new raster layer.
Open ddPaper 4 from Dillie's Blue Roses kit.
Paste into the selection. Deselect. Sharpen twice.
Move this paper layer below the wordart layer.

2. Open tube of choice. C/P above frame layer. Duplicate.
Move duplicate copy below the frame layer.
On original tube layer, erase any part of tube that you don't wish to extend beyond frame.
To brighten tube, use adjust ~ brightness/contrast ~ clarify ~ strength of 2
D/S the duplicate tube layer only.
Open element 7 ~ resize 50%. C/P to right of frame, moving it below tube layers.
Open element 6, resize 40% C/P. Using pick tool (deformation tool)
rotate flower as in reference tag. Duplicate ~ flip ~ mirror.
Open element 12 ~ resize 26% C/P ~ rotate 10 degrees to right.
Open element 10 - 35%. C/P move to left ~ change blend mode to Luminance (l).
D/ S all elements 3/3/35/5 color black.

3. Add name and copyright info.
Close white background layer.

To animate,
select original tube layer (uppermost),
using selection tool ~ freehand ~ mode add, feather 0, smoothing 0,
select layers in hair to add animation by zooming in on workspace using center wheel of mouse.
Hold down shift key to select more layers.
See reference tag.
To add glitter, use effect ~ add noise uniform, monochrome checked, noise 30.
Deselect.

Edit copy 'Merged'
Open animation shop 'n paste as a new animation.
Back to PSP,
undo deselection, undo noise affect.
change noise to 25. Deselect.
Copy Merged ~ paste in A/S after current frame.

Back to PSP, undo & undo.
Change noise to 40. Apply ~ Deselect.
Copy Merged. Paste in A/S after current frame.

Back to PSP, undo, undo.
Change noise to 35 ~ apply ~ deselect.
Copy Merge ~ paste in A/S after current frame.
You should have a total of 4 frames in A/S.
View animation. If happy, crop in A/S using crop tool ~ Options: surround the opaque area. Ok.
To save, use the following optimization settings:

automated GIF file, replace current animation with optimized version
Customize ~ slide slider to better image quality
Colors tab: 255 colors, optimized octree, error diffusion
Optimizations tab: middle three checked
Partial transparency tab: convert pixels to less than 40
Yes, blend with this color ~ select white.
Next, next, finish.
Save as a GIF.

Well done! : )