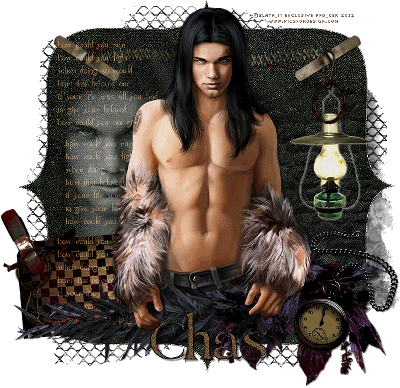 CLICK ON ABOVE PREVIEW TO VIEW FULL SIZE

This tutorial is written with the premise you have a working knowledge of PSP.
Supplies Needed:
Corel PSP X2 or any version thereof.
Tube of choice, preferable with a close-up as well. I am using an Exclusive tube by Zlata_M.
You can purchase a license to use her work at Pics For Design
FTU sampler by Gothic Inspirations called I Need A Man found HERE. Thank you, Jessica!
No Plugins, No Templates!
Mask 20/20 found HERE
Save into your Masks folder then direct your PSP program to locate
masks using Preferences ~ File Locations
Font for name is Twilight Breaking Dawn found HERE
Wordart by myself found HERE
* * * * *
1. Open a new transparent image 750 x 700 px. Flood fill white. We can resize later.
Open the tagback cluster C/P as a new layer.
Open the stonewall mask ~ resize 65% C/P, placing off center to right
change blend mode to 'soft light'
2. Open tagback, C/P on top of cluster layer. This element will be deleted later.
Open close up of tube ~ resize 80% if needed.
C/P to left of tagback. Using the magic wand,
click outside of tagback layer, back to close-up tube layer,
press delete on keyboard to rid of tube excess.
Change blend mode to Luminance (l) on tube layer,
reduce opacity to approx 69.
To further soften edge of close-up tube layer,
apply the 20/20 mask by choosing Layers ~ load mask from disk
Source luminance, fit to Canvas, Hide all mask all checked.
Apply. Merge group.
Delete the plain tagback layer.
3. Open Tab cluster ~ resize 50%. C/P
free rotate 5 degrees to left ~ sharpen
Open wordart supplied ~ C/P to left
change blend mode to Screen
and drop opacity to approx 77
4. Open main tube of choice, resize if needed.
C/P ~ duplicate tube ~ hide top duplicate layer for now.
Open Leaves 2 ~ resize 65% C/P in between the two tube layers.
Duplicate ~ free rotate 5 degrees to left. Arrange.
5. Open Leaves 1 ~ resize 38%. C/P to right.
Open pocketwatch ~ resize 50% C/P
See reference tag for placement
6. Unhide the duplicate tube layer. This should be the topmost layer on your layer palette.
To give the appearance Jake is holding the leaves, select the selection tool ~ point to point
draw a selection around his hands to rid of jeans below
Magnify your image by using center wheel of mouse to 185% or more
See below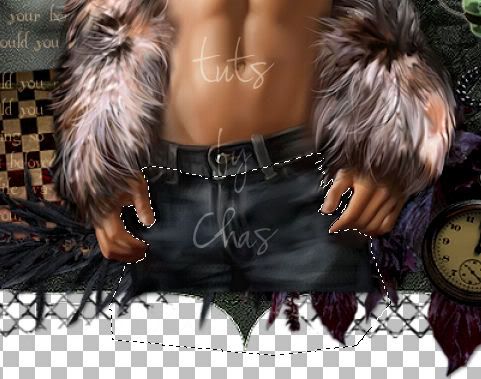 7. Open lantern ~ resize 50% C/P
Open keyclip ~ resize 25% C/P rotate with pick tool, arrange & duplicate if desire.
Sharpen each keyclip.
8. Add D/S to all elements except duplicate of main tube layer and
the tagback cluster layer.
If you wish to resize, do so now using 85 - 90% smartsize.
8. Add copyright, URL, watermark and name.
For name I used foreground black, fill color #694f35. Anti-alias Sharp. Stroke 1.0
Font Twilight Breaking Dawn sz 100.
Type name. Selections ~ select all ~ float ~ defloat
Modify selection ~ contract by 1
Add noise ~ uniform ~ monochrome checked ~ 29.
Deselect.
Add your favourite D/S to your name.
To animate,
delete white bg layer.
Copy merged, paste in Animation Shop as a new animation
Back to PSP, select lantern layer.
Draw a selection using freehand, add(shift) mode, feather 5
around the center glow of the lantern only.
With the feathered setting, the selection will appear as below: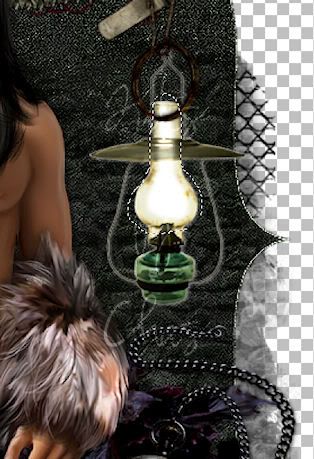 Using adjust ~ brightness/contrast setting 25/0. Apply.
Deselect. Copy Merged
Paste in A/S after current frame.
View animation. If happy, optimize using partial transparency setting of 40 pixels,
blend with color white (or bg color used in forum if you prefer).
Save as a GIF.
Well done! : )