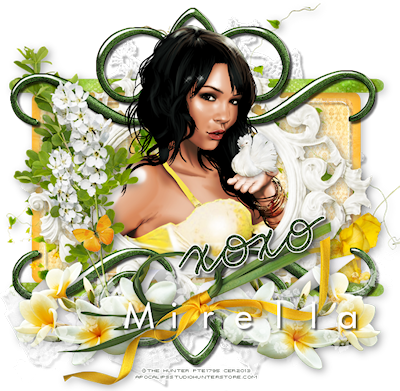 CLICK ON IMAGE TO VIEW FULL SIZE
For those with a working knowledge of PSP
Supplies Needed: Corel PSP X2
Tube of choice.
I am using the beautiful artwork of The Hunter. Unfortunately, to my knowledge
these tubes are no longer available for purchase.
FTU scrap kit by Mirella called Enamorte Yellow (tagger size) Thank you!
Template XOXO by Dee found HERE Thank you
Plugin: Xero - Radiance
* * * * *
1.Open template.
Delete copyright layer, dotted oval and brown oval, top and middle brown of brown strip
Starting from the bottom, select all ~ float ~ defloat dark pink rectangle
modify ~ smooth ~ setting of 5.
Add new raster layer, paste Paper 5 into the selection. Deselect.
D/S 4/4/35/20 blur color #404040.

2. Select right pink rectangle ~ float ~ defloat ~ smooth by 5
add new raster layer and paste paper 6 into the selection. Deselect.
Do the same for left pink rectangle and center pink rectangle.

3. Add noise to dotted rectangle of gaussian 43, monochrome checked.
D/S
Select top brown strip ~ float ~ defloat ~ smooth by 5
Add a new raster layer. paste element 33 as a new layer.
Duplicate and mirror. Invert & delete excess. Deselect. D/S
Do the same for the bottom brown strip.

4. Copy 'n paste element 34. resize 95%. Paste above all other layers.
Copy element 45 ~ 95% Paste

5. Select xoxo white layer and D/S 4/4/75/4 blur
Select XOXO black later ~ float ~ defloat ~ add a new raster layer
and flood fill with dark green color # 303e25.
Deselect and delete original black layer.

6. Add elements of choice, resized approx. 70%, D/S with setting
4/4/35, 20 blur, color # 404040.
Add elements on different layers for added dimension.

7. Delete brown oval. C/P frame 5 (85%) and rotate 90 degrees to right. D/S
Add tube of choice below this frame layer.
Erase any part of tube that extends below frame.
Duplicate. Move duplicate copy above frame.
Erase any part of tube that extends outside of lower portion of frame.
Duplicate upper tube ~ apply Xero Radiance setting of
128, 50, 128, 255.
Decrease opacity of this layer to '56'.

*Move XOXO wordart layers above tube layers*


8. Select swirls and colorize using adjust hue 70, saturation 94. Repeat
for both swirl layers and gold layers.
Be sure to D/S all layers as desired.

If you wish to resize, use smartsize 85-90%.


8. Add copyright, watermark & name.

Delete white background 'n save as a PNG.
Hope you enjoyed this!